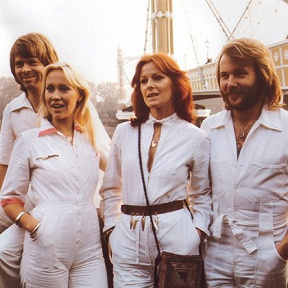 Fondé à Stockholm en 1972, ABBA réunit quatre chanteurs et musiciens, deux hommes et deux femmes. Rendu célèbre par sa victoire au Concours Eurovision de la chanson en 1974 avec son titre Waterloo, le groupe s'est progressivement imposé sur la scène internationale, notamment avec ses costumes excentriques et ses clips. Très impliqués, les membres s'occupent de tout, de l'écriture des chansons aux arrangements en passant par le marketing et le mixage. Véritable icône des années disco, ABBA a sorti 8 albums studio entre 1973 et 1981. En 1982, le groupe se sépare au grand désespoir de ses fans. Mais en 2019, une tournée en hologrammes serait prévue… En attendant confirmation, leurs titres et disques sont disponibles sur notre site. Ainsi, vous pouvez les écouter en ligne et aussi, les télécharger puisque nous vous proposons plusieurs formules et des crédits de téléchargement.
lire la suite
Un groupe de pop mythique connu dans le monde entier
En 1972, lorsque l'aventure d'ABBA débute, le groupe se compose de 4 artistes : Agnetha Fältskog, Anni-Frid Lyngstad dite « Frida », Benny Andersson et Björn Ulvaeus. Et pour leur nom, ils prennent tout simplement les initiales de leurs prénoms. Avant de se rejoindre au sein de ce quatuor, ils avaient déjà tous commencé une carrière musicale. Ensemble, ils sortent leur premier album «
Ring Ring
» en 1973 et grâce à leur single du même nom, ils se font remarquer par les sélectionneurs suédois du Concours de l'Eurovision, auquel ils participent en 1974, à Brighton en Angleterre. Avec «
Waterloo
», ils remportent le Concours et cette victoire marque le début de leur succès. Et celui-ci se confirme avec la sortie de leur album éponyme et le tube «
Mamma Mia
», qui devient l'une des chansons emblématiques du groupe. Au fil des ans, les tournées s'enchaînent et plusieurs disques sont enregistrés. Le dernier s'intitule «
The Visitors
» et date de 1981, soit 1 an avant la fin de cette belle aventure en 1982. Mais malgré la séparation, la légende ABBA continue, comme on a pu le voir avec le succès de la comédie musicale Mamma Mia ! et les deux films s'en inspirant.
Les plus grands tubes et albums disponibles sur musicMe
En avril 2018, plus de 30 ans après sa séparation, le groupe a annoncé des retrouvailles en studio pour enregistrer deux morceaux. Mais aucune reformation n'est à ce jour prévue. Pour prolonger la magie d'ABBA, nous vous proposons d'écouter sur notre site les disques et titres du groupe, comme «
Dancing Queen
», « Gimme ! Gimme ! », «
Money, money, money
», « I do, I do, I do », «
One of us
», «
Take a chance on me
» et «
Knowing me, knowing you
». Vous pouvez le faire gratuitement ou bien, opter pour l'une de nos formules et bénéficier d'une écoute sans publicité. Des crédits de téléchargement sont également à votre disposition pour les télécharger. Pour en savoir plus, découvrez nos offres sur notre site !