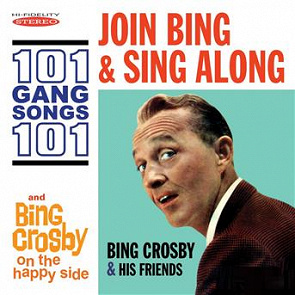 Disque 1

Shine on harvest moon / that's where my mo...

Flow gently, sweet afton / believe me if a...

Sweet rosie o'grady / my sweetheart's the ...

When the saints go marching in / little da...

While strolling through the park one day /...

Annie laurie / loch lomond / bluebells of ...

Hello, ma baby / the girl I left behind me...

Sweet adeline / on top of old smokey / dow...

This old man / schnitzelbank / pop goes th...

LI'L liza jane / cindy / where did you get...

Anchors aweigh / tramp, tramp, tramp / blo...

Love's old sweet song / kathleen mavournee...

My wild irish rose / come back to erin / k...

In the gloaming / stars of the summer nigh...

Little annie rooney / du, du liegst mir im...

She'll be coming round the mountain / our ...

Casey jones / polly wolly doodle / the man...

Battle hymn of the republic / america / wh...

There is a tavern in the town / oh! susann...

Gumtree canoe / dear evelina / sweet and low

My gal sal / I don't want to play in your ...

Heaven, heaven / mary, don't you weep / ja...

O sole mio / funiculi, funicula / my grand...

Disque 2

Sweet genevieve / santa lucia / in the eve...

Singin' in the rain / the darktown strutte...

My little grass shack in kealakekua, hawai...

Me and my shadow

Five foot two, eyes of blue / marching alo...

Should I? / blue moon

Cecilia

Gimme a little kiss / when the red, red ro...

The loveliest night of the year

Don't sit under the apple tree / my pony boy

The man on the flying trapeze

A-tisket, a-tasket / billy boy

Forever and ever

A bicycle built for two / the bowery / aft...

Long, long ago / the quilting party

Polly wolly doodle / shoo fly, don't bothe...

Old macdonald had a farm / today is monday

On top of old smokey / down in the valley ...

This old man / blow the man down / for he'...

Maryland, my maryland / love's old sweet s...

Little annie rooney / did you ever see a l...

She'll be comin' round the mountain / our ...

I've been working on the railroad / oh whe...

The music of home

It's a good day

Aloha means I love you
Ceux qui ont aimé cet album ont aussi aimé...