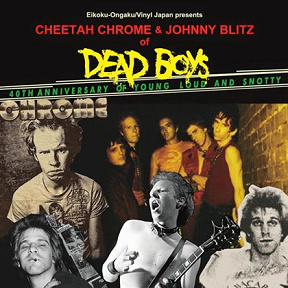 Cheetah Chrome
Cheetah Chrome
(né
Eugene O'Connor
, le 18 février 1955 à
Cleveland
,
Ohio
) est un guitariste punk américain, figure du Cleveland-punk et ensuite de la première scène new-yorkaise, avec
Rocket from the Tombs
et
The Dead Boys
.
Biographie
De son vrai nom Gene O'Connor, il est né à
Cleveland (Ohio)
. Tout comme
Richard Hell
, sa dégaine inspira beaucoup l'iconographie punk des débuts (torse nu sans ......
lire la bio