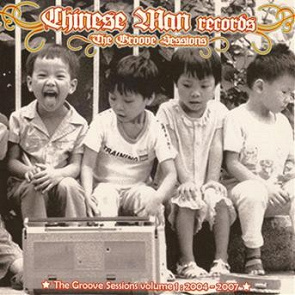 Vous avez aujourd'hui entre les oreilles « The Groove Sessions », LA compilation des 3 maxis que les Chinese Man ont sorti depuis la création de Chinese Man Records. Qui sont-ils, d'où viennent-ils ? Pourquoi les disciples de Chineseman veulent-ils répandre le bon son ?
Dès 2005 le premier maxi prend les platines d'assaut : The Pandi Groove EP dévoile l'univers des trois acolytes, une auto production où vous croiserez le souffle du Hip hop, de copieuse poussée de fièvre Funk et une évocation du grand maître Dj Shadow. Etant donné qu'un battement d'aile au Japon déclenche une tempête à New York il n'est pas surprenant qu'un coup de pied au sommet du mont Wu Tang enflamme esprits et dancefloor à l'est du méridien de Greenwich, car c'est à ce moment que Chinese Man entre en contact avec le collectif Chapka Man qui leur offre de nouveaux terrains d'expériences : la vidéo et leur premier Clip « Pandi Groove and tha Guy ».
Le Mistral dans le dos, le collectif s'étoffe autour de la création du 2° maxi : The Bunni Groove Ep confirme les précédents oracles, le Yi King parle et c'est le feu qui tombe du ciel. Les déflagrations sont si persistantes que MERCEDES choisi « I've Got That Tune » pour sa nouvelle campagne promotionnelle, Les Troublemakers sélectionnent « The Bunni Groove » pour les compilations « My Playlist ». Entre temps le festival du film français de Hong Kong a aussi fait d' « I've Got That Tune » son thème… Désormais la distribution se fait de plus en plus Européenne en direction de l'Allemagne, de l'Angleterre, du Japon.
Chinese Man délivre son dernier délire Hip Hop Jazz Dub avec l' « Indi Groove EP » ainsi que la vidéo de « Skank In The Air » réalisé par Fred Dascolique et Annabelle Faustin (Bjork). Vous avez aujourd'hui entre les mains « The Groove Sessions », la compilation des 3 maxis accompagnée de quelques inédits pour toutes celles et ceux qui n'ont pas de platine vinyle.

Inclus le titre de la publicité Mercedes (« I've Got That Tune »).
Ceux qui ont aimé cet album ont aussi aimé...