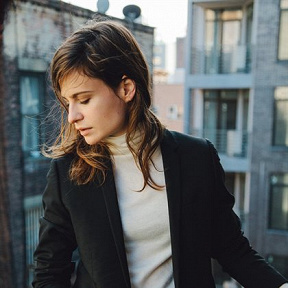 Christine & the Queens
En 2014, Christine & the Queens – Héloïse Letissier de son vrai nom – rencontre un immense succès avec son premier disque «
Chaleur humaine
» d'abord en France, puis en Angleterre et aux Etats-Unis. Quatre ans après, elle revient avec un nouvel album et une nouvelle identité de scène puisqu'elle se fait désormais appeler Chris. L'occasion pour ses fans de découvrir une autre facette de sa personnalité, de son talent. Le premier single extrait de son deuxième disque s'intitule «
Damn, dis-moi
» et est disponible au téléchargement légal sur notre site. Vous pouvez aussi l'écouter gratuitement ou en illimité et sans publicité si vous avez souscrit l'une de nos formules.
lire la suite
Une artiste aux multiples talents et très influente
Héloïse Letissier est née le 1er juin 1988, à Saint-Sébastien-sur-Loire, dans la région nantaise. A 4 ans, elle apprend à jouer du piano. Un an plus tard, elle se met à la danse classique puis, au modern-jazz. Après ses études de lettres, en 2008, elle suit une formation théâtrale à l'Ecole normale supérieure de Lyon. Deux ans après, elle se lance dans la musique après avoir séjourné à Londres. Et c'est sa rencontre avec des drag-queens qui l'inspire et lui donne l'idée de son nom de scène, Christine & the Queens. Son premier EP sort en 2011, le deuxième en 2012. A cette période, elle assure les premières parties de plusieurs artistes et remporte quelques prix lors de festivals. Son troisième EP paraît en 2013 suite à sa rencontre avec le label Because Music. Et son premier disque «
Chaleur Humaine
» séduit aussi bien le public que la critique. En avril 2015, elle commence une carrière internationale et se fait connaître aux Etats-Unis. Et désormais, c'est Chris qu'il faut l'appeler puisqu'en 2018, elle décide de raccourcir son nom de scène et sort un nouvel album en deux versions, une française et une anglaise.
Toutes ses chansons à écouter et à télécharger sur notre site
Christine & the Queens fait partie des artistes que nous vous proposons en écoute gratuite sur musicMe. Vous retrouvez son 1er opus en édition classique, collector et même quelques inédits. Son nouveau single, «
Damn, dis-moi
» est bien évidemment disponible, de même que ses chansons «
Nuit 17 à 52
», «
Paradis Perdus
», «
Christine
», «
Science fiction
» et «
Here
» notamment. Des titres que vous pouvez écouter mais aussi, télécharger en achetant des crédits sur notre site. Plusieurs packs sont disponibles à la vente, avec un prix de départ à 3,90€. Et si vous aimez les performances de la chanteuse sur scène ou dans ses clips, découvrez les vidéos mises en ligne sur notre site !