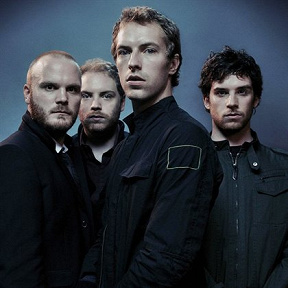 Coldplay
Régulièrement récompensé, Coldplay est un groupe de pop rock britannique formé en 1996 par Chris Martin et Jon Buckland. Rejoint ensuite par Guy Berryman et Will Champion, il sort ses deux premiers titres en 1998 puis signe chez le label Parlophone. Son dernier et septième album «
A Head Full of Dreams
», sorti en décembre 2015, est disponible sur notre site en écoute gratuite, tout comme leur 4ème CD «
Viva la Vida Or Death and All His Friends
» dont le single «
Viva la Vida
» a connu un succès mondial. Les titres du groupe sont également téléchargeables légalement sur notre site. Pour les télécharger, vous avez le choix plusieurs formules d'abonnement. Pour cela, nous vous proposons d'acheter des crédits de téléchargement à partir de 3,90€.
lire la suite
Une des valeurs sûres de la pop et du rock anglais !
1998 est donc l'année de référence pour Coldplay : première production sur scène à Manchester et sortie de leurs premiers titres. C'est également cette année-là que les musiciens se font remarquer par un label indépendant Fierce Panda avant de signer avec Parlophone. Leur premier album sort en 2000, intitulé «
Parachutes
». La critique et le public tombent sous le charme de la musique mélancolique et pleine de douceur du groupe. En 2002, «
A Rush of Blood to the Head
» leur offre de belles récompenses : quatre Grammy Awards et un Brit Awards en 2003. Très prometteur, le groupe est mené par son chanteur, Chris Martin, qui est aussi l'un des plus médiatisés. En 2012, il participe à la cérémonie des Jeux Olympiques de Londres ainsi qu'à la cérémonie de clôture des Jeux Paralympiques. Le quatuor est également très engagé en faveur du commerce équitable et auprès de plusieurs œuvres caritatives. En 2015 par exemple, il a joué lors d'un concert organisé par l'ONU.
Découvrez toutes les chansons du groupe disponibles sur notre site !
Depuis ses débuts, Coldplay marque les esprits avec des mélodies où règnent douceur et mélancolie. Parmi ses plus grands tubes, citons «
In My Place
», «
Clocks
», «
The Scientist
», «
Talk
», «
Speed of Sound
», «
Viva la Vida
», «
Violet Hill
», «
Mylo Xyloto
» ou encore «
Trouble
» que vous retrouvez en écoute gratuite sur notre site. Et si vous avez souscrit l'une de nos offres d'abonnement, vous avez la possibilité de les télécharger en mp3 en toute légalité. Et en achetant des packs sur notre site, vous profitez de crédits vous permettant de les télécharger légalement en MP3. Alors, si vous aimez la musique du groupe, n'attendez plus pour découvrir tous ses albums sur notre site et visionner ses clips !