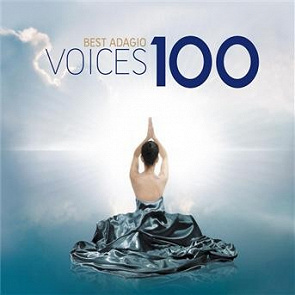 Disque 1

Vocalise, op.43/no.4

Agnus dei

Pavane, op.50

Giustino: vedro con mio diletto (anastasio)

Così fan tutte k588, act one, scene two: terzettino: soave sia il vento (fiordiligi/dorabella/don alfonso)

Saul, act I: o lord, whose mercies numberless

Le nozze DI figaro, act II: porgi, amor

Le siège de corinthe, 'assedio DI corinto': juste ciel! ah, ta clémence est ma seule espérance

La wally: ebben?...ne andrò lontana

La forza del destino: la vergine degli' angeli (act II)

Lakmé - acte I - flower duet : sous le dôme épais (lakmé/mallika) (remasterisé en 2009)

Les contes d'hoffmann, act IV: belle nuit, ô nuit d'amour (nicklausse, giulietta, chorus)

Les pêcheurs de perles: a cette voix quel trouble... je crois entendre encore (nadir)

Gianni schicchi: o mio babbino caro

Rusalka: song to the moon (act I)

Madama butterfly: humming chorus (act II)

The tsar's bride: lyubasha's aria: you wil pay

Disque 2

Norma: casta diva

Il trionfo del tempo a del disinganno, oratorio in two parts HWV 46 a (1707), part two: aria: "lasci la spina" (piacere)

Dido and aeneas, act 3, scene 2: when I am laid in earth (dido)

Serse: aria: ombra mai fu

Interotte speranze

Hippolyte et aricie: acte III, scène 1 - air de phèdre: cruelle mère des amours

Il delirio amoroso: aria: lascia omai le brune vele

La sonnambula, act II scene 2: ah! no credea mirarti (amina)

Otello, atto quarto/act 4/vierter akt/quatrieme acte, seconda scena/scene 2/zweite szene/deuxième scène: ave maria, piena gi grazia ... (desdemona)

Gustaf wasa, act one, scene 8: aria: från tronen uti bojor sänkt (christina)

La légende de saint cécile op. 22, acte 2: cantique de sainte cécile: "que d'étoiles dans vos cheveux"

Hamlet, act 4: le voilà, je crois l'entendre

Turandot, act I: signore, ascolta! (liù.)

Peer gynt (incidental music): no. 19 solveigs sang/solveig's song (solveig)

Lieder eines fahrenden gesellen: wenn mein schatz hochzeit macht

Wiegenlied op. 41 no. 1 (dehmel)

Waldseligkeit op. 49 no. 1 (dehmel)

Pulcinella - complete ballet: 2. serenata: mentre l'erbetta pasce l'agnella (tenor)

Disque 3

Cantata no. 147, 'herz und mund und tat und leben' bwv147, part two: jesu, joy of man's desiring (from cantata no. 147)

Aria: erbarme dich (St matthew passion BWV 244)

Dixit dominus: de torrente in via bibet

Stabat mater pour soprano, contralto, cordes et basse continue: I. stabat mater dolorosa

Ave verum corpus K.618

Messiah, part one: comfort ye my people (tenor)

Vesperae solennes de confessore, k339: laudate dominum (1987)

Magnificat in D major, bwv243: et misericordia

Mass in C minor K.427 (revision louis langrée): kyrie

Mass in B minor BWV 232, agnus dei: coro - dona nobis pacem

Requiem pour soli, choeur et orchestre en ré mineur K.626, sequenz: lacrimosa

Requiem for soloists, chorus & orchestra (1855), requiem aeternam: recordare

Requiem to the memory of luiz vaz de camos op. 23, agnus dei: requiem aeternam

Psalm 42, for chorus, soprano and orchestra op. 42: 1. chorus: wie der hirsch schraeit nach frischem wasser

Missa solemnis in B flat minor, agnus dei: agnus dei

Requiem op. 48: IV. pie jesu

Requiem op. 48: VII. in paradisum

Requiem, op.9 (version with organ): in paradisum

Disque 4

Miserere (excerpts)

Funeral sentences for the death of queen mary II: man that is born of woman z27

Selva morale e spirituale, venetia 1640: hymnus: salve regina a 3

Messa da requiem : libera me - requiem

Gloria in G major for soprano solo, mixed chorus & orchestra: domine deus, agnus dei (soprano)

Ave verum (for female chorus & organ) op. 65 no. 1

Quatre motets pour le temps de noël pour choeur mixte a cappella, fp152: o magnum mysterium

Vespers (all-night vigil) op. 37: 6. bogoroditse devo (rejoice, o virgin mother of god)

Magnificat

Thunder entered her: the lament of the mother of god

Maitia nun ziran

Loch lomond (scotland) (arr. jonathan rathbone)

Kondakion de l'office de la nativité (byzantine melkite tradition): al-yawma-L-batûl

Veni creator spiritus

Lord, I can't turn back

Salve regina

Away in a manger

Berçeuse de grainne pour diarmait (after motet 'nisi dominus')

Disque 5

Bachianas brasileiras no. 5: aria (cantilena)

Music for a while

Madrigals, book 8 (madrigali guerrieri et amorosi...libro ottavo), madrigali guerrieri, hor che'L ciel: 'hor ch'el ciel e la terra, e'L vento tace'

Du bist die ruh' d776

Vier gesange op. 17: es tont ein voller harfenklang

Mich zieht es nach dem dörfchen hin, op.55 no.3

Funf lieder op. 104: III. letztes glück (kalbeck)

Gesang der geister über den wassern d714 (1995 digital remaster)

Les nuits d'été op. 7: 2. le spectre de la rose

2 songs, op. 4 (J. L. runeberg): flickan knyter I johannenatten

Chanson perpétuelle op. 37

Carmina burana: in trutina

Les illuminations op. 18: iiia. phrase

Seven elizabethan lyrics op. 12: VI. by a fountainside (ben jonson)

Disque 6

Concerto pour soprano colorature & orchestre en fa mineur/in F minor/F-moll op.82 : I andante

L' air (banville)

Shéhérazade: III. l'indifférent

Après un rêve op. 7 no. 1 (romaine bussine)

Trois chansons a capella (charles d'orléans): dieu qu'il la fait bon regarder!

Cantique de jean racine, op.11

2 duos op. 11: 1. la nuit (theodore de banville)

2 duos op. 11: 2. le réveil (honore de balzac)

Trois chansons a capella: trois beaux oiseaux du paradis

2 choeurs pour 4 voix mixtes a capella op. 68: no. 1 calme des nuits (anon)

Chants d'auvergne: baïlèro (series 1, no.2)

Vocalise en forme de habanera

L'invitation au voyage

Quatre poèmes hindous: lahore - heinrich heine

Les chansons de bilitis: XII. la pluie au matin

Ceux qui ont aimé cet album ont aussi aimé...