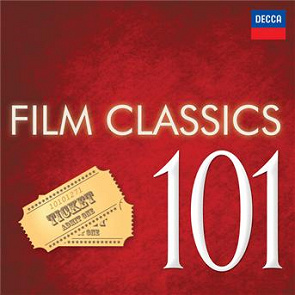 Disque 1

Carmina burana / fortuna imperatrix mundi : "o fortuna"

Adagio for strings, op.11 (from "platoon / the elephant man")

Symphony no.7 in a, op.92 : 2. allegretto

Clarinet concerto in a, K.622 : 2. adagio

Suite no.11 in D minor, HWV 437 : sarabande

Concerto for harpsichord, strings, and continuo no.5 in F minor, BWV 1056 : 2. largo

Canon in D, P.37 (from "the father of the bride")

Boléro, m.81 (excerpt / finale)

Suite no.3 in D, BWV 1068 : 2. air

String quintet in C, D.956 : 2. adagio

Swan lake, op.20, TH.12 / act 2 : no.10 scène (moderato)

Jazz suite no.2 : 6. waltz II

Suite bergamasque, L.75 - orch. henri pierre edouard mouton (1917- ) : clair de lune

The planets, op.32 : 5. saturn, the bringer of old age

Le nozze DI figaro, K.492 : overture

Messiah, HWV 56 / PT. 2 : "hallelujah"

Disque 2

Also sprach zarathustra, op.30 : prelude

Symphony no.9 in D minor, op.125 - "choral" : 4. presto - allegro assai

Symphony no.5 in C sharp minor : 4. adagietto (sehr langsam)

Symphony no.25 in G minor, K.183 : 1. allegro con brio

Adagio in G minor for strings and organ (from "gallipoli")

Coronation anthem no. 1, HWV 258 : zadok the priest

Solomon HWV 67 / act 3 : the arrival of the queen of sheba

Cello concerto in e minor, op.85 : 1. adagio - moderato

La forza del destino - original St.petersburg version : sinfonia

Cavalleria rusticana : intermezzo

Concerto for 2 violins, strings, and continuo in D minor, BWV 1043 : 2. largo ma non tanto

Nulla in mundo pax, R.630 : nulla in mundo pax sincera

Serenade in G, K.525 "eine kleine nachtmusik" : 1. allegro

Sonata for viola da gamba and harpsichord no.3 in G minor, BWV 1029 - arr. cello & piano : 2. adagio

Symphony no.3 in C minor, op.78, R.176 - "organ symphony" : 2b. maestoso - più allegro - molto allegro

Disque 3

Warsaw concerto (from "dangerous moonlight")

The piano : the heart asks pleasure first

Piano concerto no.21 in C major, K.467 : 2. andante

Piano sonata no.14 in C sharp minor, op.27 no.2 -"moonlight" : 1. adagio sostenuto

Piano concerto no.5 in e flat major op.73 -"emperor" : 2. adagio un poco mosso

Aria mit 30 veränderungen, BWV 988 "goldberg variations" : aria

Nocturne no.20 in C sharp minor, op.posth. (from "the pianist")

Piano trio no.2 in e flat, op.100 D.929 : 2. andante con moto

Piano concerto no.2 in C minor, op.18 : 2. adagio sostenuto

3 gymnopédies : no.1

The dream of olwen (from "while I live")

Piano concerto no.3 in D minor, op.30 : 1. allegro ma non tanto

Piano sonata no.11 in a, K.331 -"alla turca" : 3. alla turca (allegretto)

Hungarian rhapsodies, S.244 : no.2 in C sharp minor

Disque 4

Die walküre, WWV 86b / act 3 : ride of the valkyries

La wally / act 1 : "ebben? ne andrò lontana"

Pagliacci / act 1 : "recitar!...vesti la giubba"

Gianni schicchi : "oh! mio babbino caro"

Norma / act 1 : "casta diva"

Rigoletto / act 1 : "questa o quella"

Così fan tutte, K.588 / act 1 : "soave sia il vento"

Les contes d'hoffmann / act 2 : "belle nuit, ô nuit d'amour"

Madama butterfly / act 2 : "un bel dì vedremo"

Rigoletto / act 3 : "la donna è mobile"

Carmen, WD 31 / act 1 : habanera

Le nozze DI figaro, K.492 / act 3 : "che soave zeffiretto"

Lakmé / act 1 : "viens, mallika, ... dôme épais"

La bohème / act 1 : "che gelida manina"

Les pêcheurs de perles, WD 13 / act 1 : "je crois entendre encore"

Rusalka, op.114, B. 203 / act 1 : song to the moon

Andrea chénier / act 3 : "la mamma morta"

Turandot / act 3 : "nessun dorma!"

Disque 5

Main title from "star wars"

Princess leia's theme (from "star wars")

My heart will go on (from "titanic")

Romeo and juliet: love theme

I will always love you (from "the bodyguard")

We have all the time in the world (from "on her majesty's secret service")

Up where we belong (from "an officer & a gentleman")

Take my breath away (from "top gun")

Can you feel the love tonight (from "the lion king")

Evergreen (from "a star is born")

Love is all around (from "four weddings & a funeral")

Nuovo cinema paradiso

Gabriel's oboe (from "the mission")

Try a little tenderness (from "the commitments")

Moon river (from "breakfast at tiffany's")

Where do I begin (from "love story")

When a man loves a woman

The way we were

Somewhere my love (from "doctor zhivago")

How deep is your love (from "saturday night fever")

Cavatina (from "the deer hunter")

Schindler's list: main theme

Disque 6

The big country

The magnificent seven: theme

Stagecoach - main theme

The green leaves of summer (from "the alamo")

Casablanca

Blood and sand

Ari's theme from "exodus"

Lawrence of arabia: theme

Antony and cleopatra's theme

Sea hawk: main title

Patton, lust for glory - main theme

A love like this (from "for whom the bell tolls")

Things to come - suite : march

North by northwest

Theme from "spellbound"

Gone with the wind - music from the motion picture

Ceux qui ont aimé cet album ont aussi aimé...