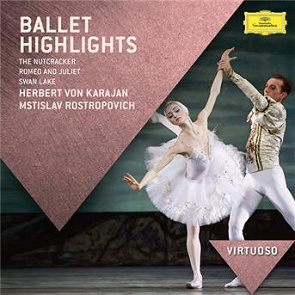 Piotr Ilyitch Tchaïkovski
Nutcracker Suite, Op.71a, TH.35

March

2b. dance of the sugar-plum fairy

Russian dance (trepak)

Chinese dance (tea)

Dance of the reed-pipes (merlitons)

Ferdinand Hérold
La fille mal gardée / Act 1

17a. clog dance

Léo Delibes
Coppélia, Suite

2. scène et valse de swanhilde

Léo Delibes
Sylvia, Suite

3. pizzicati

Serge Prokofiev
Romeo And Juliet, Ballet Suite No. 1 - Op.64a:5

Masks

Serge Prokofiev
Romeo and Juliet, Op.64

Montagues and capulets (excerpt)

Piotr Ilyitch Tchaïkovski
The Sleeping Beauty, Suite, Op.66a, TH 234

2. pas d'action: rose adagio

5. valse

Jacques Offenbach
Gaîté parisienne

Barcarolle

Serge Prokofiev
Cinderella, Op.87

12. spring fairy

13. summer fairy

15. autumn fairy

16. winter fairy

Amilcare Ponchielli
La Gioconda / Act 3

Dance of the hours

Frédéric Chopin
Les Sylphides

2. nocturne in a? major, op. 32, no. 2

7. valse in C? minor, op. 64, no. 2

Charles Gounod
Faust, Ballet Music (1869)

6. variations du miroir (allegretto)

Piotr Ilyitch Tchaïkovski
Swan Lake, Op.20 Suite

1. scene - swan theme

3. danse des petits cygnes

6. scène finale.

Ceux qui ont aimé cet album ont aussi aimé...