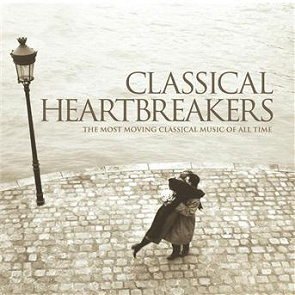 Disque 1

Piano concerto no. 1 in b flat minor, op.2...

Cavalleria rusticana: intermezzo

Rhapsody on a theme of paganini, op.43: va...

Gianni schicchi: o mio babbino caro

Viola da gamba sonata in g minor, bwv 1029...

Vier letzte lieder (four last songs) av150...

Schindler's list - theme

Suite bergamasque: clair de lune

Symphony no. 5 in c sharp minor: iv. adagi...

La wally (1997 - remaster)

La wally: ebben?...ne andrò lontana

Piano sonata no. 14 in c-sharp minor, op.2...

Violin concerto no.1 mvt ii:adagio (openin...

Tosca, act iii: e lucevan le stelle

Nocturnes: c sharp minor op. posthumous

Adagio for strings, op.11

Cello concerto in e minor op. 85 - i. adag...

Piano concerto no. 2 in f: ii. andante

Disque 2

Adagio in g minor (excerpt) (1986 - remast...

The heart asks pleasure first/the promise ...

Time to say goodbye

Aria from goldberg variations, bwv 988

Les contes d'hoffmann, '(the) tales of hof...

Piano concerto no.2 in c minor, op.18: ii....

Variations on an original theme, op.36 'en...

Tosca, act ii: vissi d'arte

Cavatina

String quintet in c, d.956: ii. adagio (op...

Orphée et eurydice, act 3, scène 1 (eurydi...

Etude in e major, op.10 no. 3 (1990 digita...

La traviata: attendo, attendo...addio del ...

Double violin concerto in d minor bwv 1043...

The queen symphony: iii: adagio (who wants...

Piano concerto no.1 in e minor op.11: ii r...

Requiem, op.48: in paradisum

My heart will go on (love theme from the m...

Rhapsody in blue - excerpt (1998 digital r...

Ceux qui ont aimé cet album ont aussi aimé...