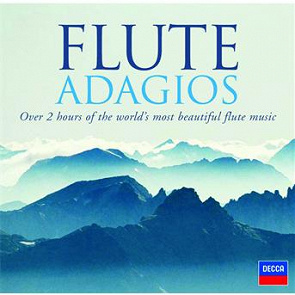 Disque 1

Jean-sébastien Bach
Concerto for Harpsichord, Strings, and Continuo No.5 in F minor, BWV 1056 - Arr./ Reconstructed Christopher Hogwood for flute & strings

Largo

W.a. Mozart


Andante for flute and orchestra in C, K.315

Francis Poulenc
Sonata for Flute and Piano, FP.164

2. cantilena

Gabriel Fauré


Pavane, op.50

W.a. Mozart
Flute Quartet in D, K.285

2. adagio - (attacca)

3. rondeau

Saverio Mercadante
Flute Concerto in D Major

2. andante alla siciliana

Claude Debussy
Sonata For Flute, Viola And Harp, L. 137

1. pastorale

Maurice Ravel


Pìece en forme de habanera, M.51

Gabriel Fauré
Pelléas et Mélisande, Op.80

Sicilienne

W.a. Mozart
Flute Concerto No.1 in G, K.313

2. adagio non troppo

Georg Friedrich Haendel
Flute Sonata in A minor, HWV 374 "Halle" No.1

3. adagio

Ludwig Van Beethoven
Serenade for Flute, Violin and Viola in D, Op.25

4. andante con variazioni

Disque 2

C.w. Gluck
Orfeo ed Euridice, Wq. 30 / Act 2

Dance of the blessed spirits

Claude Debussy


La plus que lente, L.121 (arr. hutchins)

Jean-sébastien Bach
Brandenburg Concerto No.5 in D, BWV 1050

2. affetuoso

Claude Debussy


Syrinx - for unaccompanied flute

Erik Satie


Gymnopédie no.1

W.a. Mozart
Concerto for Flute, Harp, and Orchestra in C, K.299

2. andantino

Gabriel Fauré


Morceau de concours (arr. brieff)

Jean-sébastien Bach
Suite No.2 in B minor, BWV 1067

3. sarabande

Jacques Ibert
Concerto for Flute & Orchestra

2. andante

W.a. Mozart
Flute Quartet No.2 in G, K.285a

1. andante

Albert Roussel
Joueurs de flûte, Op.27

3. krishna

Ralph Vaughan Williams


Fantasia on greensleeves

Philippe Gaubert
Sonata for flute and piano

2. lento

Gabriel Fauré


Fantaisie, op.79 - orchestrated by louis a...

Antonio Vivaldi


Concerto for flute and strings in G minor,...

Ceux qui ont aimé cet album ont aussi aimé...