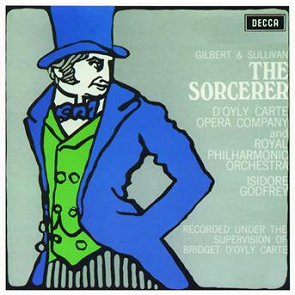 Disque 1

Arthur Seymour Sullivan
The Sorcerer

Overture

Arthur Seymour Sullivan
The Sorcerer / Act 1

1. ring forth, ye bells

2. constance, my daughter

3. when he is here, I sigh with pleasure

4. the air is charged with amatory numbers

5. time was, when love and I were well acq...

6. sir marmaduke...minuet

7. with heart and voice

8. my kindly friends...oh, happy young heart

9. my child, I join in these congratulations

10. with heart and with voice

11. welcome joy! adieu to sadness!

12. all is prepar'D for sealing and for si...

13. love feeds on many kinds of food

My name is john wellington wells

15. sprites of earth and air

16. now to the banquet we press

Disque 2

Arthur Seymour Sullivan
The Sorcerer / Act 2

17. 'tis twelve, I think

18. dear friends, take pity on my lot

19. thou hast the pow'R....it is not love

20. I rejoice that it's decided

21. oh, I have wrought much evil with my s...

22. alexis! doubt me not...the fearful dee...

23. oh, my voice is sad and low

24. oh, joyous boon

25. prepare for sad surprises

26. or he or I must die

Arthur Seymour Sullivan
The Zoo

Introduction

The british public here - you see

I loved her fondly

And now let's go back to where we were...a...

Where is he?

Once more the face I loved so well

Help! ah help!

Ho-guards! minions!

Ladies and gentlemen!

We gather from what you have said

Where is my daughter?

I'm a simple little child

My father!

Finale: what do I see in this disguise

Ceux qui ont aimé cet album ont aussi aimé...