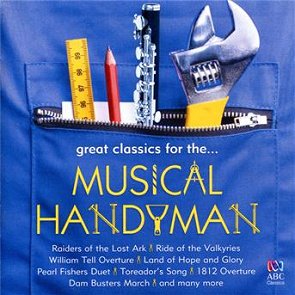 Carl Orff
Carmina Burana / Blanziflor et Helena

1. o fortuna

Jean-sébastien Bach
Toccata And Fugue In D Minor, BWV 565

1. toccata

Joachin Rodrigo
Concierto de Aranjuez for Guitar and Orchestra

1. allegro con spirito

Georges Bizet
Les pêcheurs de perles, WD 13 / Act 1

Au fond du temple saint

Aram Khachaturian
Gayane

Sabre dance

Richard Wagner
Die Walküre, WWV 86B / Dritter Akt

Ride of the valkyries

Sir Edward Elgar
Cello Concerto in E minor, Op.85

1. adagio - moderato

Divers


Irish tune from county derry (arr. percy g...

Eric Coates


March (from "the dam busters")

Georges Bizet
Carmen, WD 31 / Act 2

Votre toast, je peux vous le rendre - toré...

Serge Prokofiev
Romeo And Juliet Suite No. 2, Op. 64ter

1. the montagues and capulets

Piotr Ilyitch Tchaïkovski
Piano Concerto No.1 In B Flat Minor, Op.23, TH.55

1. allegro non troppo e molto maestoso

Jean Sibelius


Finlandia, op.26, no.7

Maurice Jarre


Building the barn (from "witness")

Jean-sébastien Bach
Brandenburg Concerto No.3 in G, BWV 1048

1. allegro

Piotr Ilyitch Tchaïkovski


1812 overture, op.49 (excerpt)

Gioacchino Rossini
Guillaume Tell / Act 1

Overture

Giuseppe Verdi
Il Trovatore / Act 2

Vedi! le fosche

Kenneth J Alford


Colonel bogey march (from "the bridge on t...

Georg Friedrich Haendel
Solomon HWV 67 / Act 3

42. the arrival of the queen of sheba

Giacomo Puccini
Turandot / Act 3

"nessun dorma"

Ludwig Van Beethoven
Symphony No.5 in C minor, Op.67

1. allegro con brio

Henry Litolff
Concerto Symphonique No.4, Op.102

2. scherzo

Ross Edwards
Maninyas - Concerto for Violin & Orchestra

3. ecstatic

Manuel De Falla
El Amor Brujo

Ritual fire dance

Brian May


Max decides on vengeance (from "mad max")

Félix Mendelssohn


The hebrides (fingal's cave), op.26

Gustav Holst
The Planets, Op. 32

1. mars, the bringer of war

John Williams


Main theme (from "raiders of the lost ark")

Georg Friedrich Haendel
Music for the Royal Fireworks, HWV 351

4. la réjouissance

Bernadino Bautista Monterde


La virgen de la macarena

Sir Edward Elgar
Pomp and Circumstance, Op.39

March no.1 in d major

Ceux qui ont aimé cet album ont aussi aimé...