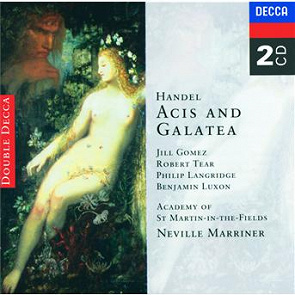 Disque 1

Georg Friedrich Haendel
Acis and Galatea

Symphony

Georg Friedrich Haendel
Acis and Galatea / Act 1

Oh, the pleasure of the plains

Ye verdant plains

Hush, ye pretty warbling quire!

Where shall i seek the charming fair?

Stay, shepherd, stay!

Shepherd, what art thou pursuing?

Lo! here my love!

Love in her eyes sits playing

Oh! didst thou know the pains

As when the dove laments her love

Happy we !

Georg Friedrich Haendel
Acis and Galatea / Act 2

Wretched lovers!

I rage-i melt-i burn!

O ruddier than the cherry

Whither, fairest, art thou running

Cease to beauty to be suing

Would you gain the tender creature

His hideous love provokes my rage

Love sounds th'alarm

Disque 2

Georg Friedrich Haendel
Acis and Galatea / Act 2

Consider, fond shepherd

Cease, oh cease, thou gentle youth

The flocks shall leave the mountains

Help, galatea! help, ye parent gods!

Mourn, all ye muses!

Must i my acis still bemoan

'tis done: thus i exert my pow'r divine

Georg Friedrich Haendel
Acis and Galatea

Heart, the seat of soft delight

Galatea, dry thy tears

Georg Friedrich Haendel
Il Pastor Fido - Ballet Music Selections

Pour les chasseurs i & ii

Georg Friedrich Haendel
Look down harmonious Saint HWV124

Recitative: look down, look down

Aria: sweet accents all your numbers grace

Georg Friedrich Haendel


Meine seele hört im sehen

Süsse stille, sanfter quelle

Thomas Augustine Arne
Bacchus and Ariadne from Six English Cantatas, 1755.

Recitative: the faithless theseus...

Aria: ah theseus, theseus stay

Recit: the jolly god who rules

Aria: cease lovely nymph to weep

Recitative: with soft reluctance

Aria: learn hence ye fond maidens

Thomas Augustine Arne
Fair Caelia love pretented

Recit: fair caelia love pretented

Aria: to all the sex deceitfull

Recit: but caelia now repenting

Aria: how engaging, how endearing

William A Boyce
The Secular Masque, c.1746

Momus to mars

James Hook


The lass of richmond hill

Ceux qui ont aimé cet album ont aussi aimé...