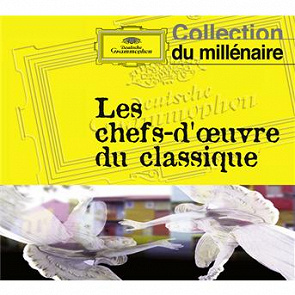 Richard Strauss
Also sprach Zarathustra, Op.30, TrV 176

Einleitung

Ludwig Van Beethoven
Piano Sonata No.14 in C sharp minor, Op.27 No.2 -"Moonlight" - Excerpt from 1st movement for this item.

1. adagio sostenuto

Maurice Ravel


Boléro, M.81 (excerpt)

W.a. Mozart
Serenade In G, K.525 "Eine kleine Nachtmusik"

1. allegro

Carl Orff
Carmina Burana / Fortuna Imperatrix Mundi

1. o fortuna

Antonio Vivaldi
Concerto For Violin And Strings In E Major, Op.8, No.1, RV 269 "La Primavera"

1. allegro

Luigi Boccherini
String Quintet op.11 (13), No.5 in E major

2. menuetto

Frédéric Chopin
Waltz No.6 In D Flat, Op.64 No.1 -"Minute"

Molto vivace

Marc-antoine Charpentier
Te Deum For Soloists, Chorus And Orchestra, H. 146

1. prélude. rondeau

Edward Grieg
Peer Gynt, Op.23

Prelude to act 4 (morning mood)

Georg Friedrich Haendel
Messiah

Part 2

Piotr Ilyitch Tchaïkovski
Swan Lake (Suite), Op.20a, TH 219

1. scene - swan theme

Johann Pachelbel
Canon And Gigue In D Major

1. canon

W.a. Mozart
Symphony No.40 In G Minor, K.550

1. molto allegro

Giuseppe Verdi
Rigoletto / Act 3

"la donna è mobile"

Ludwig Van Beethoven
Symphony No.5 In C Minor, Op.67

Allegro con brio

W.a. Mozart
Requiem In D Minor, K.626

3. sequentia: dies irae

Antonín Dvorák
Symphony No.9 In E Minor, Op.95, B.178 "From The New World"

4. allegro con fuoco

Giacomo Puccini
Turandot / Act 3

"Nessun dorma"

Serge Prokofiev
Romeo and Juliet, Op.64 / Act 1

13. dance of the knights

W.a. Mozart
Die Zauberflöte, K.620 / Act 2

"der hölle rache kocht in meinem herze"

Joachin Rodrigo
Concierto de Aranjuez For Guitar And Orchestra

2. adagio

Erik Satie
Gymnopédie No.1

Lent et douloureux

Richard Wagner
Die Walküre - Erster Tag des Bühnenfestspiels "Der Ring des Nibelungen" / Dritter Aufzug

Der walküren-ritt - hojotoho!

Gustav Mahler
Symphony No.5 In C Sharp Minor

4. adagietto (sehr langsam)

Georges Bizet
Carmen / Act 1

"l'amour est un oiseau rebelle" (havanaise)

Ludwig Van Beethoven
Symphony No.9 In D Minor, Op.125 - "Choral" / 4.

4. finale

Ceux qui ont aimé cet album ont aussi aimé...