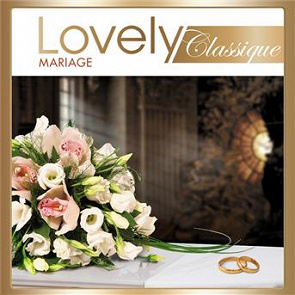 Disque 1

Antonio Vivaldi
Gloria in D Major, RV589

1. gloria in excelsis

Georg Friedrich Haendel
Solomon HWV 67 / Act 3

The arrival of the queen of sheba

Richard Wagner
Lohengrin / Act 3

Prelude to act III - bridal chorus

Clarke Jeremiah


Trumpet voluntary

Jean-sébastien Bach


In dir ist freude (fantasia), BWV 615

Johann Pachelbel


Canon in D, P.37

Jean-sébastien Bach
Prelude And Fugue In C, BWV 547

1. prelude

John Stanley
Suite in D, Voluntary 6/6

Trumpet tune in D

Georg Friedrich Haendel
Rinaldo - Edited & Prepared: Bonynge - Act 3

March

Giovanni Battista Martini


Toccata

Georg Friedrich Haendel


Zadok the priest (coronation anthem no.1, ...

Jean-sébastien Bach


Jauchzet gott in allen landen, BWV 51: 1. ...

Joseph Haydn
Trumpet Concerto in E Flat, H.VIIe/1

3. allegro

Hector Berlioz
La Damnation de Faust, Op. 24, H 111 / Pt. 1

Marche hongroise

Giuseppe Verdi
Aida - Arr. R. Sanders - Act 2

Marcia

Disque 2

Henry Purcell


Christ is made the sure foundation

W.a. Mozart


Ave verum corpus, K.618

César Franck


Panis angelicus

Charles Gounod
Messe solennelle de Ste. Cécile

Sanctus

Melchior Teschner


All glory, laud and honour (tune, St. theo...

W.a. Mozart
Vesperae solennes de confessore in C, K.339

5. laudate dominum omnes gentes

Will Henry Monk


Abide with me

Sir Hubert Parry


Jerusalem

Jean-sébastien Bach


Trio in G dur, BWV 1027a (transc. vla da g...

Girolamo Frescobaldi


Toccata undecima

Georg Friedrich Haendel
Judas Maccabaeus HWV 63 / Part 3

58. "see, the conqu'ring hero comes!..see,...

Jean-sébastien Bach
Herz und Mund und Tat und Leben, Cantata BWV 147 - Arr. Guillermo Figueroa

10. jesu, joy of man's desiring

Franz Schubert


Ave maria, "ellens gesang III", d839 - arr...

César Franck


Panis angelicus, op.12, FWV 61

Jules Massenet
Thaïs / Acte Deux

Méditation religieuse

Georg Friedrich Haendel
Serse / Act 1

Largo ('ombra mai fù')

Charles Gounod, Jean-sébastien Bach


Ave maria, CG 89a

Disque 3

Jean-sébastien Bach
Was mir behagt, ist nur die muntre Jagd, Cantata BWV 208

9. sheep may safely graze

Ludwig Van Beethoven
Piano Sonata No.8 in C minor, Op.13 -"Pathétique"

2. adagio cantabile

Georg Friedrich Haendel
Water Music Suite / Water Music Suite in F Major

Air

Pietro Mascagni
Cavalleria rusticana

Intermezzo

Frédéric Chopin


Nocturne no.2 in e flat, op.9 no.2

Jean-sébastien Bach
Orchestral Suite No.3 in D Major, BWV 1068

2. air

Joseph Canteloube
Chants d'Auvergne

2. bailero

C.w. Gluck
Orfeo ed Euridice, Wq. 30 / Act 2

Dance of the blessed spirits

Franz Liszt


Liebestraum no.3 in a flat, S.541 no.3

Sir Edward Elgar


Salut d'amour, op.12

Jean-sébastien Bach
Concerto for Harpsichord, Strings, and Continuo No.5 in F minor, BWV 1056 - Arr./ Reconstructed Christopher Hogwood for flute & strings

Largo

Georges Bizet
Carmen Suite No.1

Intermezzo

Franz Schubert
4 Impromptus, Op.90, D.899

No.3 in G flat major: andante

Félix Mendelssohn


Auf flügeln des gesanges, op.34, no.2

W.a. Mozart
Clarinet Concerto in A, K.622

2. adagio

Charles Gounod, Jean-sébastien Bach


Ave maria: arr. from bach's prelude no.1 B...

Hector Berlioz
L'Enfance du Christ, Op.25 / Partie 3: L'arrivée à Sais

Allegro moderato - andante espressivo

Divers


Abide with me

Disque 4

Félix Mendelssohn
A Midsummer Night's Dream, Incidental Music, Op.61, MWV M 13 - Arr. Organ

Wedding march

Charles-marie Widor
Symphony n°5 en fa mineur Op.42 n°1 pour orgue

5. toccata (allegro)

Georg Friedrich Haendel
Der Messias - In deutscher Sprache / Zweiter Teil

42. chor "halleluja"

Georg Friedrich Haendel
Samson HWV 57 / Act 3

"Let the bright seraphim"

W.a. Mozart
Le nozze di Figaro, K.492

Overture

Georg Friedrich Haendel
Music for the Royal Fireworks: Suite HWV 351

4. la réjouissance

Jean-sébastien Bach


Wachet auf, ruft uns die stimme, BWV 645 (...

Georg Friedrich Haendel
Organ Concerto No.5 in F, Op.4 No.5

2. allegro (arr. curley)

Jean-sébastien Bach
Brandenburg Concerto No.2 in F, BWV 1047

3. allegro assai

W.a. Mozart


Exsultate, jubilate, K.165

Johann Nepomuk Hummel
Trumpet Concerto in E flat major

3. rondo

Georges Philipp Telemann
12 Heroic Marches - 4 Marches

La vaillance - l'armement - la gaillardise...

James Horner


My heart will go on

Disque 5

Pascal Obispo


Savoir aimer

Davide Esposito, Paul Manners, Francesco De Benedettis


Mon ange

Curtis Fitzgerald Williams, James L Bonnefond, Ronald Nathan Bell, James Warren Taylor, George Brown, Dennis Ronald Thomas, Charles Jay Smith, Clifford Adams


Cherish

Rick Allison


Entre nous

Jacques Revaux


La maladie d'amour

Alex North


Unchained melody

Billy Joel


Just the way you are (single version)

Buffy Sainte Marie, Jack Nitzsche, Will Jennings


Up where we belong (from "an officer and a...

Lionel Richie


Say you, say me

Ande Rand, Buck Ram


Only you (and you alone) (single version)

Jean-jacques Goldman


Je te promets

Édith Piaf


Hymne à l'amour

avec l'album uniquement

Roman Hoffstetter
String Quartet in F major, Op.3, No.5 (formerly attrib. J. Haydn)

Andante cantabile

W.a. Mozart
Serenade in G, K.525 "Eine kleine Nachtmusik"

2. romance (andante)

W.a. Mozart
Concerto in C for Flute, Harp, and Orchestra, K.299

2. andantino

Antonio Vivaldi
Concerto for Lute, 2 Violins and Continuo in D major, RV 93

2. largo (arr. for guitar)

W.a. Mozart
Piano Concerto No.21 in C Major, K.467

2. andante

Ceux qui ont aimé cet album ont aussi aimé...