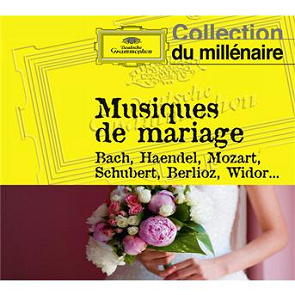 Félix Mendelssohn
A Midsummer Night's Dream, Incidental Music, Op.61, MWV M 13 - Arr. Organ

Wedding march

Jean-sébastien Bach
Prelude And Fugue In C, BWV 547

1. prelude

Jean-sébastien Bach


In dir ist freude (fantasia), bwv 615

Clarke Jeremiah


Trumpet tune

Jean-sébastien Bach
Jauchzet Gott in allen Landen Cantata, BWV 51

1. aria: "jauchzet gott in allen landen"

Georg Friedrich Haendel


Zadok the priest (coronation anthem no.1, ...

Hector Berlioz
L'Enfance du Christ, Op.25 / Partie 3: L'arrivée à Sais

Allegro moderato - andante espressivo

Charles Gounod, Jean-sébastien Bach


Ave maria: arr. from bach's prelude no.1 b...

Franz Schubert


Ave maria, "ellens gesang iii", d839

Georg Friedrich Haendel
Judas Maccabaeus HWV 63 / Part 3

58. "see, the conqu'ring hero comes!..see,...

Jean-sébastien Bach
Herz und Mund und Tat und Leben, Cantata BWV 147 - Arr. Guillermo Figueroa

10. jesu, joy of man's desiring

Jean-sébastien Bach
Orchestral Suite No.3 in D Major, BWV 1068

2. air

W.a. Mozart
Vesperae solennes de confessore in C, K.339

5. laudate dominum omnes gentes (ps. 116/1...

W.a. Mozart


Ave verum corpus, k.618

Charles-marie Widor
Symphony No.5 In F Minor, Op.42 No.1 For Organ

5. toccata (allegro)

W.a. Mozart
Exsultate, jubilate, K.165

1. exsultate, jubilate

Georg Friedrich Haendel
Der Messias - In deutscher Sprache / Zweiter Teil

42. chor "halleluja"

Richard Wagner
Lohengrin / Act 3

Prelude to act iii - bridal chorus

Ceux qui ont aimé cet album ont aussi aimé...