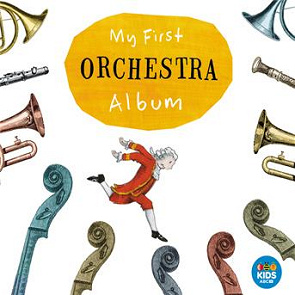 Gioacchino Rossini
William Tell

Overture

Piotr Ilyitch Tchaïkovski
The Nutcracker, Op.71, TH.14 / Act 2

14c. variation 2 "dance of the sugar plum ...

Alec Wilder
Tuba Suite No.1 - "Effie The Elephant"

5. effie goes folk dancing

Gabriel Fauré
Pelléas et Mélisande, Op.80

4. sicilienne

Camille Saint-saëns
The Carnival of the Animals (Grande Fantaisie Zoölogique), R.125

12. fossils

Joachin Rodrigo
Concierto de Aranjuez for Guitar and Orchestra

1. allegro con spirito

Georg Friedrich Haendel
Water Music Suite in D major, HWV349

2. alla hornpipe

Jean-sébastien Bach
Concerto for 2 Violins, Strings, and Continuo in D minor, BWV 1043

1. vivace

Ralph Vaughan Williams
The Wasps - An Aristophanic Suite

3. march past of the kitchen utensils

Modest Petrovich Mussorgsky
Sorochinsky Fair

Gopak

Richard Wagner
Die Walküre, WWV 86B / Dritter Akt

Ride of the valkyries

Edward Grieg
Peer Gynt Suite No.1, Op.46

1. morning mood

4. in the hall of the mountain king

Nikolaï Rimski-korsakov
The Tale of Tsar Saltan / Act 3

The flight of the bumble-bee

Ludwig Van Beethoven
Symphony No.8 in F, Op.93

2. allegretto scherzando

Joseph Haydn
Trumpet Concerto in E Flat, H.VIIe/1

3. allegro

Antonio Vivaldi
Concerto For Violin And Strings In E, Op.8, No.1, RV 269 "La Primavera"

1. allegro

John Williams


Main theme (from "raiders of the lost ark")

Lord Benjamin Britten
The Young Person's Guide to the Orchestra, op.34

Theme - allegro maestoso e largamente

Domenico Scarlatti
The Good-Humoured Ladies - Arr. Vincenzo Tommasini

5. presto

Piotr Ilyitch Tchaïkovski
Symphony No.5 In E Minor, Op.64, TH.29

3. valse

Ottorino Respighi
Ancient Airs And Dances, Suite No.2, P. 138

4. bergamasca

Ceux qui ont aimé cet album ont aussi aimé...