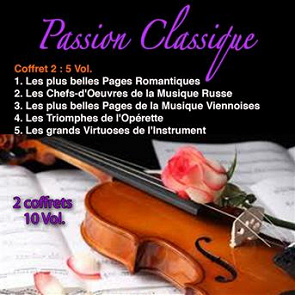 Disque 1

Suite bergamasque, l. 75: iii. clair de lu...

Liebesträume, s. 541 "drei notturnos": no....

Pelléas et mélisande suite, op. 80: iii. s...

2 pieces from kuolema, op. 44: no. 1, vals...

String quintet in e major, op. 11 no. 5, g...

Symphony no.5, pt. 3: iv. adagietto

Adagio in g minor

Boléro in c major, m. 81

Waltzes, op. 39: no. 15 in a-flat major, ?

Chopiniana, op. 46 "les sylphides": mazurk...

Kinderszenen, op. 15: no. 7, träumerei

La mer, l. 109: i. de l'aube a midi sur la...

Piano sonata no. 14 in c-sharp minor, op. ...

Peer gynt suite no. 1, op. 46: i. morning ...

Eine kleine nachtmusik in g major, k. 525:...

Les contes d'hoffmann: barcarolle

L'arlésienne suite no. 2: iii. minuet

Disque 2

Prince igor: danses polovtsiennes

In the steppes of central asia

Night on bald mountain

Romeo and juliet, suite no. 2, op. 64ter: ...

The love for three oranges, suite, op. 33b...

Jazz suite "suite for variety orchestra": ...

Gayane: sabre dance

Gayane: gopak

Masquerade: no. 5, galop

Circus polka

The comedians, suite, op. 26: ii. comedian...

L'oiseau de feu, suite no. 2: v. final

Petrushka, pt. i. the shrovetide fair: iv....

Peter and the wolf, op. 67 (extracts)

The tale of tsar saltan: flight of the bum...

The nutcracker, suite, op. 71a, th. 35: va...

Swan lake, op. 20a, th. 219: i. scène

The sleeping beauty, op. 66, th. 13: the g...

Disque 3

Künstlerleben, op. 316 "artist's life" (ex...

Annen-polka, op. 117

Morgenblätter, op. 279

Radetzky march, op. 228

Tritsch-tratsch-polka, op. 214

Unter donner und blitz, polka schnell, op....

Jaromír weinberger: polka

Pizzicato polka in c major, op. 335

An der schönen blauen donau, op. 314

Kaiser-walzer, op. 437

G'schichten aus dem wienerwald, op. 325

Wein, weib und gesang, op. 333

Wiener blut, op. 354

Donauwellen

Frühlingsstimmen, op. 410

Le vieux vienne

Wien, du stadt meiner träume, op. 1

Caprice viennois, op. 2

Champagner-polka, op. 211

Perpetuum mobile in e-flat major, op. 257

Disque 4

La vie parisienne: la veuve du colonel

La vie parisienne: air du brésilien

La belle hélène "le jugement de paris": in...

Frühlingsstimmen, op. 410

Le pays du sourire: je t'ai donné mon c?ur

Le pays du sourire: mon amour et ton amour

Die lustige witwe: heure exquise

Tea for two

Rose-marie: chant indien

Véronique: poussez, poussez l'escarpolette

Les cloches de corneville: j'ai fait trois...

Les cloches de corneville: chanson des clo...

Les saltimbanques: c'est l'amour

Paganini: j'ai cru qu'un baiser

Rêve de valse: oui, c'est une valse de vie...

Les mousquetaires au couvent: pour faire u...

La fille de madame angot: de madame angot,...

Violettes impériales: qui veut mon bouquet...

Der graf von luxemburg: je vous aime à jam...

Auberge du cheval blanc: être un jour aimé...

Disque 5

Trois gymnopédies: no. 1, lent et douloureux

Thaïs: médidation

6 cello suites, cello suite no.1 in g majo...

Trumpet tune in d major

Ich steh mit einem fuß im grabe in f major...

Hungarian rhapsody no. 11 in a minor, s. 2...

Jeux interdits

Für elise in a minor, woo 59

Waltzes, op. 64 "minute waltz": no. 1 in d...

Berceuse à la trompette

Piano trio no. 1 in b major, op. 8: i. all...

Le quattro stagioni, violin concerto, op. ...

Keyboard sonata in e major, l. 225

Little fugue in g minor

Prélude and fugue, bwv 846

Grande valse brillante in e-flat major, op...

Caprice basque, op. 24

Die forelle in d-flat major, op. 32, d. 550

Ceux qui ont aimé cet album ont aussi aimé...