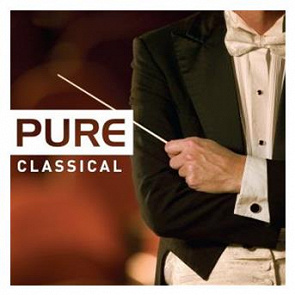 Disque 1

Barber: adagio for strings, op. 11a

Bach, JS: herz und mund und tat und leben,...

Vivaldi: the four seasons, violin concerto...

Cello concerto in e minor, op.85 (1995 - r...

Offenbach: les contes d'hoffmann, act 4: n...

Handel: water music suite no. 1, HWV 348: ...

Debussy: suite bergamasque, CD 82, L. 75: ...

Fauré / arr. rutter: requiem, op. 48: VII....

Rodrigo: concierto de aranjuez: II. adagio...

III. nocturne (abbrev.) from string quarte...

Violin concerto in D op. 77: II. adagio

Caplet: 2 petites pièces: II. petite valse...

Dance of the sylphs (from la damnation de ...

Bach: flute sonata in e-flat major, BWV 10...

Shostakovich / arr. atovmian: the gadfly, ...

Vaughan williams: the lark ascending: open...

Disque 2

Beethoven: piano sonata no. 14 in C-sharp ...

Vivaldi: violin concerto in F minor, RV 29...

Bach, JS: orchestral suite no. 3 in D majo...

Albinoni: adagio in G minor (excerpt)

Satie: 3 gymnopédies: no. 1, lent et doulo...

Thaïs (1988 digital remaster): méditation

Holst: the planets, op. 32: II. venus, the...

Elgar: 2 chansons, op. 15: II. chanson de ...

Mozart: serenade no. 13 in G major, K. 525...

Pachelbel: canon and gigue in D major, P. ...

Rhapsody on a theme of paganini, op.43

avec l'album uniquement

Messiah hwv56: pastoral symphony (larghett...

II. largo (opening) from symphony no. 9 in...

On hearing the first cuckoo in spring (199...

Salve regina (canto gregoriano) (remasteri...

Tavener: song for athene

Disque 3

Fauré: pavane in F-sharp minor, op. 50 (or...

Flower duet from lakme (remasterisé en 1987)

Saint-saëns: le carnaval des animaux, R. 1...

Fur elise (1988 remastered version)

Grieg: peer gynt, op. 23, act IV: morning

Requiem, op.48 (1993 - remaster): IV. pie ...

Orfeo ed euridice (1992 digital remaster):...

Le carnaval des animaux, 'carnival of the ...

Variations on an original theme 'enigma' o...

Beethoven: piano concerto no. 5 in e-flat ...

Mascagni: cavalleria rusticana: intermezzo

Puccini: madama butterfly, act 2 scene 1: ...

Williams: main theme (from "schindler's li...

Beethoven / arr. bates: symphony no. 6 in ...

Kyrie from office of easter (canto gregori...

Ave maria (ellens gesang III) d839 (1988 r...

Ceux qui ont aimé cet album ont aussi aimé...