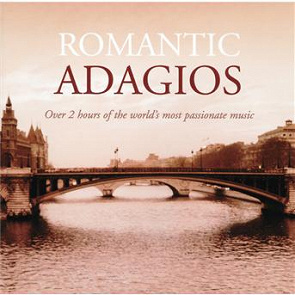 Disque 1

Samuel Barber


Adagio for strings, op.11/2

Jules Massenet
Thaïs / Acte Deux

Méditation religieuse

Serge Rachmaninov
Piano Concerto No.2 in C minor, Op.18

2. adagio sostenuto

Erik Satie
3 Gymnopédies - Orch. Claude Debussy

No.1 - lent et grave, no.3 - lent et doulo...

W.a. Mozart
Clarinet Concerto in A, K.622

2. adagio

Aram Khachaturian
Spartacus: Ballet Suite No.2

1. adagio of spartacus and phrygia

Ludwig Van Beethoven
Piano Sonata No.14 in C sharp minor, Op.27 No.2 -"Moonlight"

1. adagio sostenuto

Max Bruch


Kol nidrei, op.47

Sir Edward Elgar
Variations on an Original Theme, Op.36 "Enigma"

Variation 9. nimrod (adagio)

Gustav Mahler
Symphony No.5 in C Sharp Minor

4. adagietto (sehr langsam)

Disque 2

W.a. Mozart
Piano Concerto No.21 in C Major, K.467

2. andante

Piotr Ilyitch Tchaïkovski
String Quartet No.1 in D, Op.11 - orchestral version

2. andante cantabile

Max Bruch
Violin Concerto No.1 in G minor, Op.26

2. adagio

Antonín Dvorák
Symphony No.9 in E minor, Op.95 "From the New World"

2. largo

Serge Rachmaninov
Rhapsody on a Theme of Paganini, Op.43

Variation 18

Pietro Mascagni
Cavalleria rusticana

Intermezzo

Claude Debussy
Suite bergamasque, L.75

3. clair de lune

Joachin Rodrigo
Concierto de Aranjuez for Guitar and Orchestra

2. adagio

Camille Saint-saëns
Le Carnaval des Animaux, R. 125

The swan

Dmitri Shostakovich
Piano Concerto No.2 In F, Op.102

2. andante

Gabriel Fauré


Pavane, op.50

Ceux qui ont aimé cet album ont aussi aimé...