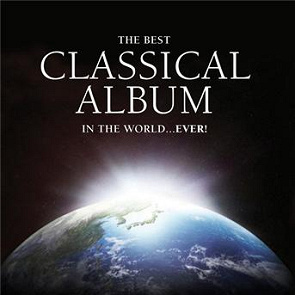 Disque 1

Orff: carmina burana: introduction, fortun...

The planets, op. 32: venus, the bringer of...

Strauss, R: also sprach zarathustra, op. 3...

Zadok the priest (coronation anthem for ge...

The nutcracker, op.71, act II, 12. diverti...

Die walküre - ride of the valkyries (conce...

Beethoven: piano sonata no. 14 in C-sharp ...

Variations on an original theme 'enigma' o...

Vivaldi: violin concerto in e major, RV 26...

Vivaldi: violin concerto in F minor, RV 29...

Beethoven: bagatelle no. 25 in a minor, wo...

Williams: main theme (from "schindler's li...

Ravel: boléro, M. 81: tempo DI bolero. mod...

Vaughan williams: the lark ascending: open...

Rachmaninov: rhapsody on a theme of pagani...

Dvorák: symphony no. 9 in e minor, op. 95,...

Bach: herz und mund und tat und leben, BWV...

Handel: messiah, HWV 56: no. 44 hallelujah

Disque 2

Jerusalem (1996 remastered version)

Puccini: turandot, act 3: "nessun dorma!" ...

Beethoven: symphony no. 9 in D minor, op. ...

Bach, J.S.: toccata & fugue in D minor, BW...

Water music (1987 digital remaster), suite...

1812 overture (extract;1995 remastered ver...

Puccini: madama butterfly, act 2 scene 1: ...

Le carnaval des animaux, 'carnival of the ...

Barber: adagio for strings, op. 11a

Mascagni: cavalleria rusticana: intermezzo

Grieg: peer gynt, op. 23, act IV: morning

Vaughan williams / arr. greaves: fantasia ...

Albinoni: adagio in G minor (excerpt)

Mozart: eine kleine nachtmusik, K. 525: I....

The sorcerer's apprentice (excerpt)

Swan lake, op.20, act I: 9. finale (andante)

Rossini: guillaume tell: overture (conclus...

Elgar: pomp and circumstance march no. 1 i...

Ceux qui ont aimé cet album ont aussi aimé...