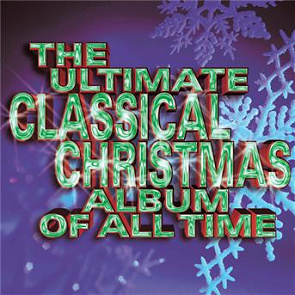 Disque 1

I wonder as I wander (vocal)

Villancico de navidad

O little town of bethlehem

Hänsel und gretel: abendsegen

Es ist ein ros entsprungen

The coventry carol

Good people all, this christmastide (vocal)

Watts's cradle hymn (vocal)

Concerto grosso in G minor op. 6, no. 8, "...

O tannenbaum (instrumental)

It came upon a midnight clear

Largo from concerto in F minor for violin ...

Ave maria

Pie jesu from requiem, op. 48 (vocal)

Ich steh' an deiner krippen hier (I stand ...

Lullay my liking

What child is this? (greensleeves) (instru...

O come, o come, emanuel

Silent night

Wiegenlied "guten abend, gut nacht" op. 49...

Disque 2

Hallelujah chorus from messiah, HWV 56 (vo...

Hark! the herald angels sing

Cantique de nöel (o holy night)

Jesu, joy of man's desiring

Little drummer boy "carol of the drum" (vo...

Deus in adjutorium from vespers of the ble...

Laudemus te from gloria in D major, RV 589...

German dance in C major, K. 605, no. 3 "th...

Deck the halls with boughs of holly

Hark! the herald angels sing (vocal)

Gesù bambino

O come, all ye faithful (voice)

The first noël

Ding dong! merrily on high (vocal)

March from the nutcracker ballet, op. 71 (...

Exsultate, jubilate, K. 165 (158a): I. all...

Canzon septimi toni no. 2

Die menge der engel (the hosts of angels) ...

Joy to the world

Once, in royal david's city (vocal)

O sanctissima (o du fröhliche)

Angels we have heard on high

Magnificat from magnificat in D major, BWV...

Ceux qui ont aimé cet album ont aussi aimé...