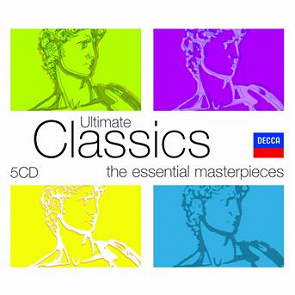 Disque 1

Georg Friedrich Haendel
Solomon HWV 67 / Act 3

The arrival of the queen of sheba

Franz Schubert
"Ellens Gesang III", D839

Ave maria

Jean-sébastien Bach
Herz und Mund und Tat und Leben, Cantata BWV 147

Jesu, joy of man's desiring

Johann Pachelbel


Canon in D, P.37

Albert Hay Malotte


The lord's prayer

W.a. Mozart
Serenade in G, K.525 "Eine kleine Nachtmusik"

1. allegro

Félix Mendelssohn
Violin Concerto In E Minor, Op.64, MWV O14

2. andante

Giacomo Puccini
Madama Butterfly / Act 2

"Un bel dì vedremo"

Piotr Ilyitch Tchaïkovski
Nutcracker Suite, Op.71a

Dance of the sugar plum fairy...waltz of t...

Edward Grieg
Piano Concerto in A Minor, Op.16

3. allegro moderato molto e marcato - quas...

Giuseppe Verdi
Nabucco / Act 3

"Va, pensiero" (chorus of the hebrew slaves)

Sir Edward Elgar
Pomp and Circumstance Marches, Op.39

No.1 - march in D major

Disque 2

Jacques Offenbach
Orpheus in the Underworld (Orphée aux enfers)

Overture

Johann Strauss Jr.
Casanova

Nuns' chorus

Jean-sébastien Bach
Was mir behagt, ist nur die muntre Jagd, Cantata BWV 208

Sheep may safely graze

Ludwig Van Beethoven


Für elise

Arthur Seymour Sullivan


The lost chord

André Grétry


Pantomine and finale

Giuseppe Verdi
Rigoletto / Act 3

"la donna è mobile"

Pietro Mascagni
Cavalleria rusticana

Intermezzo

Clarke Jeremiah


Trumpet voluntary

Georg Friedrich Haendel
Messiah, HWV 56 / Pt. 3

"I know that my redeemer liveth"

Sir Charles Hubert Hastings Parry


Jerusalem

Giuseppe Verdi
La traviata / Act 1

Prelude

Ludwig Van Beethoven
Piano Concerto No.5 in E Flat Major Op.73 -"Emperor"

3. rondo (allegro)

Ralph Vaughan Williams


Fantasia on greensleeves

Maurice Ravel


Boléro, M.81 (excerpt / finale)

Disque 3

Edward Grieg
Peer Gynt Suite No.1, Op.46

1. morning mood

Sir Hugh Roberton


All in the april evening

Giuseppe Verdi
Aida / Act 2

"Gloria all'egitto, ad iside"

Jules Massenet
Thaïs / Acte Deux

Meditation

Stephen Adams


The holy city

Félix Mendelssohn
Elijah, Op.70, MWV A25 / Part 2

"Oh rest in the lord, wait patiently for h...

John Stainer
The Crucifixion

God so loved the world

Serge Rachmaninov
Piano Concerto No.2 in C minor, Op.18

1. moderato

Benjamin Godard


Angels guard thee

Antonín Dvorák
Symphony No.9 In E Minor, Op.95, B. 178

2. largo

Georges Bizet
Les pêcheurs de perles, WD 13 / Act 1

In the depths of the temple

Disque 4

Félix Mendelssohn


The hebrides, op.26 (fingal's cave)

Giacomo Puccini
La Bohème / Act 1

"Che gelida manina"

Joachin Rodrigo
Concierto de Aranjuez for Guitar and Orchestra

2. adagio

Michael William Balfe
The Bohemian Girl / Act 2

"I dreamt I dwelt in marble halls"

Roman Hoffstetter
String Quartet in F major, Op.3, No.5 (formerly attrib. J. Haydn)

Andante cantabile

Arthur Seymour Sullivan
The Gondoliers or The King of Barataria - Version with dialogue - Act Two

Take a pair of sparkling eyes

Albert William Ketèlbey


Sanctuary of the heart

Charles Gounod, Jean-sébastien Bach


Ave maria

Anonymous


The lord's my shepherd

Divers


Blow the wind southerly

The londonderry air - arr. john iveson

Jean Sibelius
Karelia Suite, Op.11

3. alla marcia (moderato)

Claude Debussy
Suite bergamasque, L.75

Clair de lune

Ludwig Van Beethoven
Symphony No.9 in D minor, Op.125 - "Choral"

4. presto - allegro assai

Disque 5

W.a. Mozart
Le nozze di Figaro, K.492

Overture

Georg Friedrich Haendel
Serse, HWV 40 / Act 1

Largo

W.a. Mozart


Ave verum corpus, K.618

Charles Gounod
Mors et Vita

Judex

Georg Friedrich Haendel
Tolomeo, HWV 25 - English text

Silent worship ("did'St thou not see my la...

Ludwig Van Beethoven


Violin romance no.2 in F major, op.50

Joseph Canteloube
Chants d'Auvergne

2. bailero

Nikolaï Rimski-korsakov
Scheherazade, Op.35

The young prince and the young princess

Piotr Ilyitch Tchaïkovski
Piano Concerto No.1 In B Flat Minor, Op.23, TH.55

1. allegro non troppo e molto maestoso

Johannes Brahms


Wiegenlied, op.49, no.4

Will Henry Monk


Abide with me

W.a. Mozart
Horn Concerto No.4 in E flat, K.495

3. rondo (allegro vivace)

Georg Friedrich Haendel
Messiah, HWV 56 / Pt. 2

"Hallelujah"

Ceux qui ont aimé cet album ont aussi aimé...