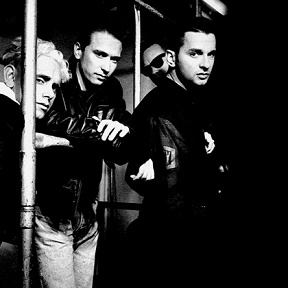 Depeche Mode
Depuis sa formation en 1979, le groupe Depeche Mode nous propose une musique new wave séduisant toutes les générations aux quatre coins du monde. Un style musical clairement affiché, aux notes électroniques, qui se distingue de la vague punk de la fin des 70's et lui offre un immense succès. Et cela fait 40 ans que ça dure ! Aujourd'hui composé de 3 membres, Martin L. Gore, Dave Gahan et Andrew Fletcher, il fait partie des groupes mythiques, dont certaines chansons sont tout simplement inoubliables. D'ailleurs, plusieurs ont été reprises par d'autres artistes, comme «
Enjoy the silence
», «
I feel you
», «
Personal Jesus
» et «
Everything Counts
». Des titres que vous retrouvez sur notre site en écoute gratuite. Vous pouvez aussi les écouter sans publicité et les télécharger grâce à nos formules.
lire la suite
Un groupe très influent, célèbre dans le monde entier
On doit la création de Depeche Mode à Vincent Clarke et Andrew Fletcher, qui ont décidé en 1977 de créer un groupe de musique où le synthétiseur serait à l'honneur. Un choix audacieux car au Royaume-Uni, la fin des années 70 rime avec le son punk rock et cet instrument est peu populaire. En 1978, Martin L. Gore rejoint l'aventure, suivi de près par Dave Gahan. Pour le nom de leur formation, ils s'inspirent du magazine français Dépêche Mode, puis ils enregistrent leurs premières compositions … qui sont refusées par les maisons de disques peu friandes de l'utilisation des synthétiseurs. Mais ils ne désespèrent pas et finalement, leur premier opus intitulé «
Speak and Spell
» sort en 1981. Et le succès est au rendez-vous ! Quelques mois plus tard, Vincent Clarke quitte le groupe et est remplacé par Alan Wilder en 1982 (qui partira lui aussi mais 13 ans plus tard, en 1995). Depuis la sortie du premier disque, Depeche Mode suscite l'engouement du public et se caractérise par son caractère novateur. De nombreux artistes le citent aujourd'hui comme une référence. Et à ce jour, 14 albums sont sortis dans les bacs, le dernier «
Spirit
» datant de 2017.
Des chansons à écouter sur notre site et à télécharger
«
Welcome to my world
», «
Enjoy the silence
», «
A question of time
», «
Walking in my shoes
», «
Strangelove
», «
Never let me down again
», «
It's no good
», «
Secret to the end
», «
Dream on
», «
Alone
», «
In your room
», «
Soothe my soul
» … autant de chansons de Depeche Mode que vous pouvez écouter en ligne, sur notre site ou notre application mobile ! En effet, vous retrouvez les albums du groupe au sein de notre catalogue, qui sont également disponibles au téléchargement légal. Pour cela, nous vous proposons plusieurs formules dont une offre à partir de 3,90€ qui vous permet de télécharger des titres. Alors, si vous aimez cette légende de la musique new wave britannique et son univers, n'attendez plus pour en profiter !