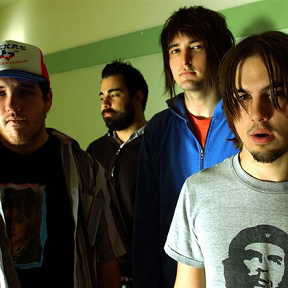 Finch
Finch
est un groupe de post-hardcore américain, originaire de
Temecula
, en
Californie
. Formé en 1999, et avec deux albums à son actif ("
What It Is to Burn
" et "
Say Hello to Sunshine
"), le quintette se sépare en février 2006 avant de se reformer en octobre 2007, célébrant son retour par un concert le 23 novembre au Glasshouse, à
Pomona
, en Californie. Après une tournée aux États-Unis et quelques......
lire la bio





Finch / A Kornfelt / Adrian Gurvitz / Ami Stewart / Andersson, Benny, Ulvaeus, Bjorn Rice Thimoty / BB & Q Band / Captain Sensible / Claude Valois / DD Bridgewater / Daniel White / David Christie / Delegation / Dennis Edwards / Dennis Lambert, Franne Golde, Duane Hitchings / Ewald Pfleger, Gunter Grasmuck, Herwig Rudisser, Kurt Plisnier, Niki Gruber / Fat Larry's Band / Five Letters / Gloria Gaynor / Greg Kihn / Ice House / Irene Cara, Keith Forsey, Giorgio Moroder / Irène Cara / Iva Davies / J Warren / James Bolden / Jerry Herman / Jimmy "Bo" Horne / Johnny Simone / Ken Gold, Mick Denne, Lynton Naiff / Kevin Mac Cord / L Dozier / Leo S Sunshipp / M Tibenham / Mark E Birts, Terry M Price, Nicholas J Martinelli / Martín / Mason Vaughan Carringt / Matt Bianco / Mike Anthony / Mike Francis / Moon Martin / Murray Head / Odyssey / Oliver Cheatham / Opus Trio / Oscar Benton / Phil Turner / Pierre Papadiamandis / Pitchsord Dean / Rah Band / Ray Charles & DD Bridgewater / Raymond Burns / Raze / Richard A Hewson / Roger Grant, Jone Hendricks, Pat Patrick / Scotch / Skipworth & Turner / Slade / Steve Wright / T Johnston / The Korgis / The Maisonettes / Timmy Thomas / Trainer, P Wuthrich, P Pilet Desjardins / Traks / V Lancini / White Snowy / William Pitt
- déc. 2011
35 titres -
Pop, Rock