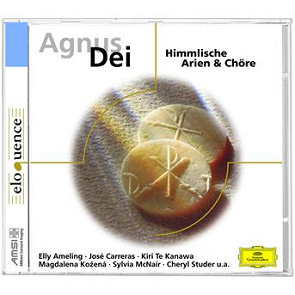 Allegri


Miserere

Jean-sébastien Bach
Mass in B minor, BWV 232 - Agnus Dei

Agnus dei

Georg Friedrich Haendel
Messiah, HWV 56 / Pt. 2

20. "behold the lamb of god"

W.a. Mozart
Mass in C Minor, K.427 "Grosse Messe" - Rev. and reconstr. by Alois Schmitt & Eliot Gardiner

3b. credo: et incarnatus est

Franz Schubert


Ave maria, "ellens gesang III", d839 - arr...

Anton Bruckner


Locus iste (motet), wab 23

Gabriel Fauré
Requiem, Op.48

4. pie jesu

Antonio Vivaldi
Salve Regina, R.616 (Antiphona)

1. "salve regina" (andante)

W.a. Mozart


Ave verum corpus, K.618

César Franck


Panis angelicus

Georges Bizet


Agnus dei

Jean-sébastien Bach
Was mir behagt, ist nur die muntre Jagd, Cantata BWV 208

Aria: schafe können sicher weiden

Gabriel Fauré


Cantique de jean racine, op.11

W.a. Mozart
Mass in C, K.317 "Coronation"

6. agnus dei
Ceux qui ont aimé cet album ont aussi aimé...