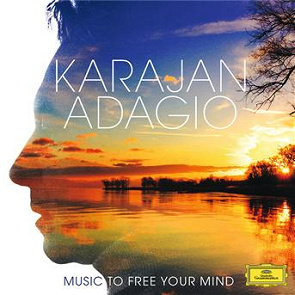 Disque 1

Pietro Mascagni
Cavalleria rusticana

Intermezzo sinfonico

Johann Pachelbel
Canon and Gigue in D major - arr. Max Seiffert

1. canon

Gustav Mahler
Symphony No.5 In C Sharp Minor

4. adagietto (sehr langsam)

Jules Massenet
Thaïs / Acte Deux

Meditation

C.w. Gluck


Orfeo ed euridice: dance of the blessed sp...

Piotr Ilyitch Tchaïkovski
Romeo and Juliet, Fantasy Overture - TH.42

Love theme

Tomaso Albinoni


Adagio for strings and organ in g minor

Edward Grieg
Peer Gynt Suite No.2, Op.55

4. solveig's song

Claude Debussy


Prélude à l'après-midi d'un faune, l. 86

Antonio Vivaldi
Concerto For Violin And Strings In F Minor, Op.8, No.4, R.297 "L'inverno"

2. largo

Jean Sibelius


Valse triste, op.44

Jean-sébastien Bach
Suite No.3 In D, BWV 1068

2. air

Disque 2

Jacques Offenbach
Gaîté parisienne

Barcarolle

Georges Bizet
L'Arlésienne Suite No.1

Adagietto

Edward Grieg
Peer Gynt Suite No.1, Op.46

2. the death of aase

Antonio Vivaldi
Concerto In A Minor For 2 Violins, Strings, And Continuo, RV 523

2. largo

Giuseppe Verdi
La traviata / Act 3

Prelude

W.a. Mozart
Serenade In G, K.525 "Eine kleine Nachtmusik"

2. romance (andante)

Jean Sibelius


The swan of tuonela, op.22, no.2

Piotr Ilyitch Tchaïkovski
Serenade for Strings in C, Op.48

3. elégie: larghetto elegiaco

Giacomo Puccini
Madama Butterfly / Act 2

Coro a bocca chiusa (humming chorus)

Maurice Ravel


Pavane pour une infante défunte, m. 19

Ottorino Respighi
Antiche danze ed arie per liuto, Suite III, P. 172

3. siciliana. andantino

Georges Bizet
Carmen Suite No.1

Entr'acte (act iii)

Frédéric Chopin
Les Sylphides

2. nocturne in a? major, op. 32, no. 2

Georg Friedrich Haendel
Concerto grosso in B minor, Op.6, No.12

3. larghetto, e piano

Richard Wagner
Tristan und Isolde - Concert Version

Liebestod
Ceux qui ont aimé cet album ont aussi aimé...