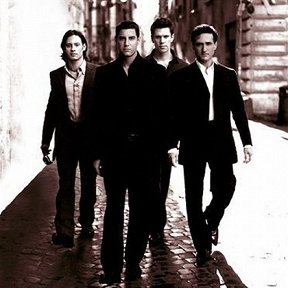 Quatuor international et polyglotte, Il Divo réunit des artistes ayant suivi une formation lyrique. Créé en 2003 par le producteur de musique Simon Cowell à Londres, il réunit Carlos Marin (bariton espagnol), Sébastien Izambard (vox populi français), Urs Bühler (ténor suisse) et David Miller (ténor américain). Leur style musical est unique puisqu'ils mélangent le chant lyrique et la musique classique avec des chansons populaires, de genres différents (aussi bien des morceaux latino que folk et pop). On parle de pop opéra. Et cela fonctionne car ils ont conquis le public aux quatre coins du monde et en 2014, le quatuor a vendu plus de 28 millions de disques dans le monde ! Un véritable phénomène musical que vous retrouvez en écoute gratuite sur notre site. Vous avez aussi la possibilité de télécharger légalement les titres et opus d'Il Divo grâce à nos packs de crédits à partir de 3,90€ !
lire la suite
Un groupe de pop opéra au succès international !
A l'origine de ce quatuor, on retrouve donc Simon Cowell qui a mis deux ans pour rassembler 4 chanteurs n'ayant pas la même nationalité et capables d'interpréter des chansons dans plusieurs langues. A ce jour, ils ont enregistré des morceaux en anglais, en français, en espagnol, en italien, en portugais et aussi en latin. Leur premier album éponyme sort en 2004 et remporte immédiatement un grand succès. D'autres disques suivent et le dernier en date, Timeless, est attendu dans les bacs pour le 10 août 2018. Il Divo part également régulièrement en tournée et a accompagné en 2006 Barbara Streisand pour une vingtaine de concerts aux Etats-Unis. Il a aussi interprété la même année la chanson officielle de la coupe du monde de football « Time of your lives » avec Toni Braxton.
Une musique originale et envoûtante à découvrir sur musicMe !
Marier morceaux populaires et chant lyrique pouvait sembler un pari risqué. Mais le talent des 4 artistes d'Il Divo a permis la réussite de ce projet. Parmi leurs plus célèbres reprises, citons «
My way
», «
I believe in you
», «
Unbreak my heart
», «
Pour que tu m'aimes encore
», «
My heart will go on
», «
Por ti seré
», «
Sempre Sempre
», «
Belle
», «
Aimer
», «
Over the rainbow
», «
Ave Maria
» … autant de titres disponibles en écoute gratuite sur notre site ! Et pour les télécharger en toute légalité, vous pouvez acheter des packs de crédits. Ainsi, cela vous permet d'écouter vos morceaux favoris quand vous le désirez, où que vous soyez ! De plus, sur notre site, vous avez le choix entre plusieurs formules pour écouter en illimité et sans publicité les albums de ce quatuor au succès phénoménal !