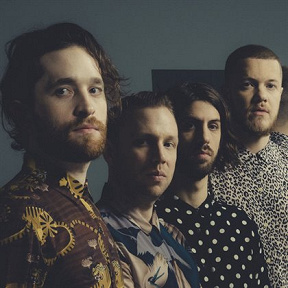 Imagine Dragons
Formé en 2008 aux Etats-Unis, Imagine Dragons compte à ce jour 4 membres : Dan Reynolds, Ben McKee, Wayne Sermon et Daniel Platzman. Il se fait d'abord connaître au niveau local, en remportant notamment des tremplins dédiés aux jeunes artistes. Le groupe enregistre son premier EP en 2009. D'autres suivent et plusieurs albums studio sortent dans les bacs, dont «
Night Visions
» en 2012 et «
Origins
» en 2018. De même, certains de ses titres ont été repris dans des publicités, dans des films ou dans des séries, comme «
Radioactive
», «
It's time
», «
Demons
» et «
Warriors
». Il a également remporté quelques prix, dont des NRJ Music Awards en 2017, 2018 et un Grammy Awards. Sur notre site, vous retrouvez en écoute gratuite les disques et chansons d'Imagine Dragons. Vous pouvez également les télécharger puisque nous vous proposons des packs de téléchargement à partir de 3,90€.
lire la suite
Un groupe de rock alternatif réputé pour sa musique inspirante
L'histoire du groupe démarre en 2008 lorsque deux de ses membres se rencontrent. Rapidement, ils sont rejoints par 2 autres artistes. Au départ, ils jouent dans des casinos et bars de Las Vegas. Puis, après la sortie de leurs EP, ils sont remarqués par un producteur de musique. Ils sortent d'autres EP et enregistrent un premier disque en 2012, qui leur permet de réaliser une tournée mondiale. De même, grâce aux reprises de plusieurs de leurs chansons, les Imagine Dragons voient leur notoriété s'accroître à l'international. Leur dernier album est sorti à la fin de l'année 2018. Le groupe est aussi à l'origine d'une fondation, la Tyler Robinson, qui a été créée en 2013. Ancré dans son époque, il communique régulièrement sur les réseaux sociaux pour informer ses fans de ses nouveaux morceaux, tournées et concerts.
Ses albums et titres à écouter et à télécharger sur notre site
Si vous aimez la musique d'Imagine Dragons, que l'on qualifie régulièrement de positive, d'inspirante, vous pouvez vous faire en plaisir et écouter ses morceaux sur notre site ! L'écoute en ligne est gratuite et si vous souscrivez à l'une de nos formules, elle peut être illimitée et sans publicité. Ses albums sont aussi disponibles au téléchargement légal. Parmi les titres mis à votre disposition dans notre catalogue en ligne, vous retrouvez par exemple «
Radioactive
», «
On top of the world
», «
Amsterdam
», «
Gold
», «
I'm so sorry
», «
Dream
», «
Polaroid
», «
The fall
», «
I bet my life
» et «
Believer
». Pour en savoir plus, n'hésitez pas à consulter notre site !