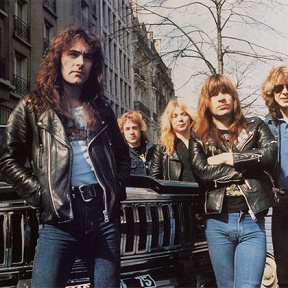 Iron Maiden
Les origines d'Iron Maiden remontent à décembre 1975 quand Steve Harris fonde le groupe à Londres. Il est rapidement rejoint par Dave Murray. Considéré comme l'un des représentants de la New wave of British heavy metal, le groupe se distingue des autres par ses albums variés, ses morceaux puissants et mélodiques. D'ailleurs, à ce jour, il est considéré comme l'un des plus grands succès commerciaux de ce style musical et il est connu dans le monde entier. Un premier album éponyme sort en 1980. Le dernier date de 2015 et s'intitule «
The Book of Souls
». Vous les retrouvez sur notre site, ainsi que les autres opus, où vous pouvez les écouter gratuitement. Ils sont également disponibles au téléchargement. Pour cela, nous vous proposons des packs de crédits pour les télécharger légalement.
lire la suite
Un groupe légendaire de heavy metal !
Depuis plus de 40 ans, Iron Maiden enchante ses fans avec ses mélodies. Au cours des années, plusieurs membres ont rejoint Steve Harris et Dave Murray. Certains sont restés plus longtemps que d'autres, comme Bruce Dickinson, Janick Gers, Nicko McBrain et Adrian Smith. Revendiquant plusieurs influences musicales, ils s'inspirent de nombreux sujets pour leurs compositions tels la littérature, les films et l'histoire. Dès les années 80, leur triomphe est mondial. Au début des années 90, le groupe traverse une période d'instabilité. Puis, ils renouent avec le succès. Mais durant toutes ces années, une chose subsiste : Eddie, leur mascotte qui est même présente sur scène lors des concerts ! Aujourd'hui, Iron Maiden reste une figure incontournable et une référence en matière de heavy metal.
Retrouvez vos morceaux préférés en ligne sur musicMe !
«
Moonchild
», «
Hallowed be thy name
», «
Phantom of the opera
», «
Holy smoke
», «
Aces high
», «
Still life
», «
Killers
», «
Speed of light
», «
The trooper
», «
Different world
» … voici quelques-uns des nombreux titres d'Iron Maiden à télécharger sur notre site. Vous retrouvez tous leurs albums en écoute gratuite, tant les premiers que les plus récents. Ainsi, vous pouvez vous faire plaisir avec vos morceaux favoris et en (re)découvrir d'autres. D'autant que vous pouvez créer des sauvegardes de playlists gratuitement, en quelques clics. Alors, n'attendez plus et choisissez notre site pour écouter les disques du groupe !