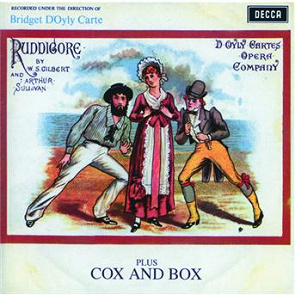 Disque 1

Arthur Seymour Sullivan
Ruddigore or The Witch's Curse

Overture

Arthur Seymour Sullivan
Ruddigore / Act 1

1. fair is rose as bright as may day

2. sir rupert murgatroyd, his leisure and ...

3. if somebody there chanced to be

I know a youth who loves a little maid

5. from the briny sea...I shipp'D, d'ye see

6. hornpipe

7. my boy, you may take it from me

8. the battle's roar is over

9. in sailing o'er life's ocean wide

10. cheerily carols the lark...to a garden...

11. welcome, gentry

12. oh why am I moody and sad?

13. you understand? I think I do

14. hail the bride of seventeen summers

15. hold, bride and bridegroom

Disque 2

Arthur Seymour Sullivan
Ruddigore / Act 2

Overture, original version

16. I once was as meek as a newborn lamb

17. happily coupled are we

18. in bygone days I had thy love

19. painted emblems of a race

When the night wind howls

21. he yields! he yields!

22. I once was a very abandon'D person

My eyes are fully open to my awful situation

24. there grew a little flower

25. oh, happy the lily when kiss'D by the ...

Arthur Seymour Sullivan
Cox and Box

Overture

We sounded the trumpet

Stay, bouncer, stay!

Hush'D is the bacon on the grid

My master is punctual always in business

Who are you, sir?

The buttercup dwells on the lowly mead

Not long ago...finale
Ceux qui ont aimé cet album ont aussi aimé...
Tous les albums de Isidore Godfrey







Nouveautés relatives à Isidore Godfrey