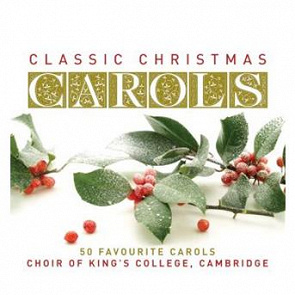 Disque 1

Once in royal david's city (harm. a. H. ma...

Ding dong! merrily on high (arr. willcocks)

O come, all ye faithful

The holly and the ivy

Hark! the herald angels sing

Silent night

While shepherds watched (este's psalter, 1...

Darke: in the bleak midwinter (christmas c...

Traditional: god rest you merry, gentlemen...

Tavener: the lamb: "little lamb, who made ...

Angels, from the realms of glory

Adam lay ybounden

Weihnachtslieder op. 8: the three kings

I saw a maiden

Whence is that goodly fragrance flowing?

Quem pastores laudavere (unaccomp. version)

Tomorrow shall be my dancing day

Anonymous: a maiden most gentle (french ch...

A spotless rose

Sans day carol (2004 remastered version)

Anonymous: I wonder as I wander (appalachi...

Anonymous: the cherry tree carol (english ...

Hadley: I sing of a maiden, for two-part b...

Baring-gould: gabriel's message (basque ca...

Personent hodie

Disque 2

The first nowell

In dulci jubilo

O little town of bethlehem (V.3 arr. ledger)

I saw three ships (arr. ledger)

It came upon the midnight clear (adapted &...

Away in a manger

Sussex carol (on christmas night all chris...

O come, o come, emmanuel (trans. J. M. nea...

Myn lyking (2004 remastered version)

Jesus christ the apple tree

Ebeling: all my heart this night rejoices ...

Rutter: dormi jesu, "the virgin's cradle h...

Cancionero de uppsala: no. 46. "riu, riu, ...

Bach: o jesulein süss, BWV 493 (chorale ve...

Traditional: the shepherds' cradle song

Traditional: how far is it to bethlehem? (...

The truth from above (2004 remastered vers...

Up! good christen folk and listen

Ravenscroft: melismata: no. 23, remember, ...

Traditional: quittez, pasteurs: "quittez, ...

Traditional: the lord at first did adam ma...

The infant king (2004 remastered version)

Scheidt: ein kind geborn zu bethlehem, SSW...

Trad / arr vaughan williams: and all in th...

Traditional: of the father's heart begotte...

Bach: in dulci jubilo, chorale prelude, BW...

Joy to the world!

A great and mighty wonder
Ceux qui ont aimé cet album ont aussi aimé...