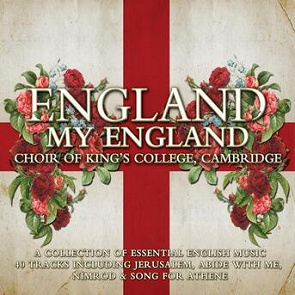 Disque 1

Handel: zadok the priest, HWV 258

Lux aeterna (choral setting of 'nimrod' fr...

Praise, my soul, the king of heaven (prais...

Spem in alium nunquam habui

Psalm 23: the lord is my shepherd (1989 re...

Handel: messiah, HWV 56, part 2: "halleluj...

Rutter: requiem: III. pie jesu

Come down, o love divine (down ampney)

O nata lux de lumine

Evening hymn (te lucis ante terminum) (199...

Ave verum corpus (gradualia I, 1605)

When I survey the wondrous cross (rockingh...

Three motets, op. 38, no. 3. - beati quoru...

Five mystical songs: 5. antiphon (chorus o...

Gradualia, vol 1/I: feast of all saints (2...

Come ye sons of art away

Faire is the heaven (spenser)

Psalm 67: god be merciful unto us, and ble...

Ave maria

All people that on earth do dwell (the old...

Disque 2

Jerusalem

Requiem: I. requiem aeternam

I vow to thee, my country (thaxted)

Song for athene

Abide with me (VV. 2, 4 & 5 arr. cleobury)

Stanford: morning, communion and evening s...

Funeral anthem of queen mary 1695: thou kn...

Gibbons: hosanna to the son of david, a 6

The day thou gavest, lord, is ended (St cl...

Psalm 84: o how amiable are thy dwellings ...

Mass in G minor: kyrie

Greater love hath no man

Tallis: if ye love me (from "certaine note...

Dear lord and father of mankind (repton)

Jubilate deo (1961) (2004 remastered versi...

Drop, drop, slow tears (song 46)

To be sung of a summer night on the water ...

Psalm 150: o praise god in his holiness (1...

Weelkes: when david heard, a 6, "david's l...

I was glad
Ceux qui ont aimé cet album ont aussi aimé...