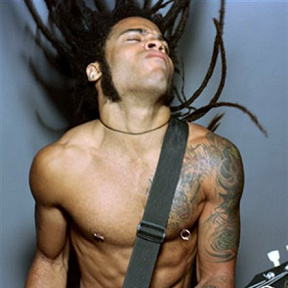 Lenny Kravitz
L'envie de devenir chanteur et de faire carrière dans la musique est venue à Lenny Kravitz en 1979, quand à l'âge de 15 ans, il découvre Prince. Pour lui, c'est une révélation et il décide de quitter l'école pour se consacrer à la musique. Seulement, à l'époque, son travail n'intéresse guère les maisons de disques qui lui demandent de choisir entre le rock ou le soul et le funk, ce qu'il refuse. Finalement, il faut attendre 1989 pour qu'il sorte son premier album «
Let Love Rule
». Puis, il enregistre d'autres disques, réalise l'album éponyme de
Vanessa Paradis
en lui écrivant les chansons et en jouant de tous les instruments, compose des titres pour d'autres artistes et joue dans quelques films au cinéma. Et en 2018, son onzième album studio, « Raise Vibration » sort dans les bacs. Le premier extrait «
Low
» est disponible depuis sa sortie en mai 2018 sur notre site en écoute gratuite. Il est également possible de le télécharger grâce aux packs de crédits que nous vous proposons.
lire la suite
Un artiste accompli à la renommée internationale
Lenny Kravitz, qui s'appelle en fait Leonard Albert, naît le 26 mai 1964 à New York. Sa mère est actrice, son père producteur de télévision. Son enfance est bercée par la musique, par les concerts de jazz organisés par son père et, après l'installation de la famille en Californie en 1974, il découvre un répertoire musical plus classique en chantant dans les chorales puis, le rock. Sa mère l'encourage dès l'adolescence à se consacrer à sa passion, la musique. Mais ses relations conflictuelles avec ses parents l'amènent à quitter le domicile familial et à vivre une vie de bohème. En 1985, il enregistre des maquettes sous le pseudo « Romeo Blue ». Finalement, il abandonne ce pseudo quand il sort son disque «
Let love rule
». Les années 90 sont celles de son succès mondial. En 2000, son premier best-of atteint un record de vente. Si dans la décennie suivante, il s'essaie au cinéma, il n'en abandonne pas pour autant la musique. Aujourd'hui, il est à la fois chanteur, musicien, compositeur et acteur et pour le plus grand bonheur de ses fans, il sort son 11ème CD en septembre 2018.
Ses premiers disques et les plus récents à écouter en ligne
Pour l'artiste, ce nouvel album est un retour aux sources. L'occasion est donc idéale pour (re)découvrir son travail, les chansons de ses débuts et les dernières, ce que vous pouvez faire sur notre site puisque nous vous proposons d'écouter gratuitement les disques et titres de Lenny Kravitz ! Tous ses grands succès sont disponibles comme «
I belong to you
», «
Again
», «
American Woman
», «
Always on the run
», «
I'll be waiting
», «
My precious love
» ou encore, «
Stand
» et «
Boongie drop
». Et en achetant des packs sur notre site, vous disposez de crédits vous permettant de les télécharger légalement. Alors n'attendez plus pour en profiter !