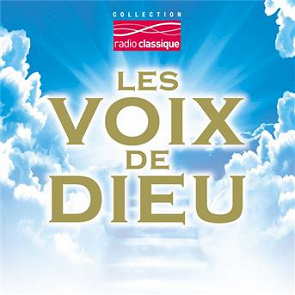 Disque 1

Barber: agnus dei (after "adagio for strin...

Kathisme de l'office de la nativité (byzan...

Requiem op. 48: IV. pie jesu

Fauré: requiem in D minor, op. 48: VII. in...

Gounod: messe solennelle de sainte-cécile,...

Poulenc: stabat mater, FP 148: I. stabat m...

Leçons de ténèbres : office du vendredi sa...

Campra: requiem (messe des morts): I. intr...

Rachmaninov: vespers, op. 37: nyne otpushc...

Pärt: de profundis

God is with us (a christmas proclamation)

Requiem op. 573: o vos imitatores [hildega...

Tallis: spem in alium

avec l'album uniquement

Veni creator spiritus

Alleluia

Disque 2

Rossini: petite messe solennelle: I. kyrie...

Messa DI gloria for tenor, baritone, choru...

Messa da requiem: libera me domine: requiem

Quattro pezzi sacri: ave maria

Requiem to the memory of luiz vaz de camos...

Mass in F major 'DI chimay': crucifixus

Requiem in C minor (1995 digital remaster)...

Vivaldi: stabat mater, RV 621: I. stabat m...

Vivaldi: nisi dominus, RV 608: IV. cum ded...

Vivaldi: magnificat in G minor, RV 610b: I...

Vivaldi: gloria in D major, RV 589: I. glo...

Pergolesi: stabat mater in F minor, P. 77:...

Scarlatti, a: stabat mater (soprano, alto)

Monteverdi: vespro della beata vergine, SV...

Crucifixus a 8

Allegri: miserere (excerpt)

Grandi: "o quam tu pulchra es"

Palestrina: missa papae marcelli: VII. agn...

Stabat mater

Disque 3

Bach: cantata "herz und mund und tat und l...

Mass in B minor, BWV 232, missa: qui tolli...

Bach, JS: cantata "ich habe genug", BWV 82...

Bach: St. matthew passion, BWV 244, PT. 2:...

Bach, J.S.: johannespassion, BWV 245, part...

avec l'album uniquement

Handel: dixit dominus, HWV 232: "de torren...

Handel: messiah, HWV 56, PT. 2: no. 39, ch...

Handel: zadok the priest, HWV 258

Mozart: ave verum corpus in D major, K. 618

Mozart: mass no. 17 in C minor, K. 427/417...

Mozart: vesperae solennes de confessore, K...

Haydn: mass in C major, hob. XXII/5, "C?ci...

Haydn: mass in C major, hob. XXII/9, "pauk...

Mendelssohn: psalm 42, op. 42: no. 1 "wie ...

Schubert: mass no. 6 in e-flat major, D. 9...

Schubert: ave maria, D. 839, "ellens gesan...
Ceux qui ont aimé cet album ont aussi aimé...
Tous les albums de Les Voix de Dieu