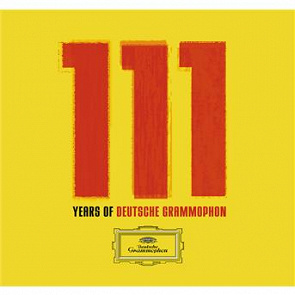 Disque 1

Johannes Brahms
Hungarian Dance No.5 in G Minor, WoO 1 No.5 - Orchestrated by Martin Schmeling (?-1943)
Jean-sébastien Bach
The Art Of Fugue, BWV 1080 - Later Version Of The Original Print Edited By Christoph Wolff
Ludwig Van Beethoven
String Quartet No.14 In C Sharp Minor, Op.131
W.a. Mozart
Piano Concerto No.21 In C Major, K.467
Frédéric Chopin
24 Préludes, Op.28
Maurice Ravel

W.a. Mozart
Le nozze di Figaro, K.492 - Original Version, Vienna 1786 / Act 2
Frédéric Chopin
24 Préludes, Op.28
Jean-sébastien Bach
Suite No.2 In B Minor, BWV 1067
Gabriel Fauré
Requiem, Op.48
Claude Debussy
Préludes / Book 1, L.117
Georges Bizet
Carmen / Act 1
Léonard Bernstein

W.a. Mozart
Requiem In D Minor, K.626 - Compl. By Franz Xaver Süssmayer
Richard Strauss
Sechs Lieder, Op.17, TrV 149
Igor Stravinsky
Le Sacre du Printemps / Part 2: Le Sacrifice
Manuel De Falla
El Amor Brujo
Giacomo Meyerbeer
L'Africaine / Act 4
Antonio Vivaldi
Concerto for Violin, Strings and Harpsichord in G minor, R. 325
Giacomo Puccini
Tosca / Act 3

Disque 2

Georges Bizet
Carmen Suite (Excerpts From Suites Nos. 1 & 2)
Morton Gould

Giuseppe Verdi
Il Trovatore / Act 3
Anonymous

Alberto Ginastera
Estancia / Danzas del Ballet
Béla Bartók
String Quartet No.4, BB 95, Sz.91
Franz Schubert
Winterreise, Op.89, D.911
Jean-sébastien Bach
Cello Suite No.1 In G Major, BWV 1007
Giuseppe Verdi
Messa da Requiem
Joseph Haydn
Symphony No.88 In G Major, Hob.I:88
Gaetano Donizetti
Lucrezia Borgia / Act 2
Claudio Monteverdi
Vespro della Beata Vergine, SV 206
Ludwig Van Beethoven
Piano Sonata No.26 In E Flat, Op.81a -"Les adieux"
Modest Petrovich Mussorgsky
Pictures At An Exhibition
Jean-sébastien Bach
Das Wohltemperierte Klavier: Book 1, BWV 846-869
Johann Pachelbel
Canon And Gigue In D Major
W.a. Mozart
Piano Sonata No.16 In B Flat, K.570
W.a. Mozart
String Quartet No.15 In D Minor, K.421
Jean-sébastien Bach
Violin Concerto No.2 In E, BWV 1042

Disque 3

Félix Mendelssohn
Six Songs, Op.34
Alexander Scriabin
3 Pieces For Piano, Op.2
George Gershwin
Porgy And Bess
Franz Schubert
Winterreise, D.911
Richard Strauss
Vier letzte Lieder, TrV 296
Edward Grieg
Peer Gynt, Op.23 - Incidental Music
Carl Orff
Carmina Burana / Fortuna Imperatrix Mundi
Ludwig Van Beethoven

Ludwig Van Beethoven
Bagatelle In A Minor, WoO 59 -"Für Elise"
George Frideric Handel
Joshua, HWV 64 - Original Version
Antonín Dvorák
Symphony No.8 In G, Op.88, B. 163
Ludwig Van Beethoven
Sonata For Violin And Piano No.8 In G, Op.30 No.3
Ludwig Van Beethoven
Symphony No.5 In C Minor, Op.67
Robert Schumann
Kinderszenen, Op.15
Félix Mendelssohn
String Quartet No.1 In E Flat, Op.12, MWV R 25
Léonard Bernstein
Candide / Act I

Disque 4

Piotr Ilyitch Tchaïkovski
Nutcracker Suite, Op.71a, TH.35
Serge Prokofiev
Symphony No.1 in D, Op.25 "Classical Symphony"
Camille Saint-saëns
Le Carnaval des Animaux, R.125
Félix Mendelssohn
Symphony No.5 in D minor, Op.107, MWV N15 - "Reformation"
Johannes Brahms
Concerto For Violin And Cello In A Minor, Op.102
Herbert Howells

Claude Debussy
String Quartet In G Minor, Op.10, L. 85
Hector Berlioz
Symphonie fantastique, Op. 14, H. 48
Modest Petrovich Mussorgsky
Sorochintsy Fair
Jean-philippe Rameau
Dardanus / Prologue
Fritz Kreisler
Liebesfreud
Piotr Ilyitch Tchaïkovski
Symphony No.5 In E Minor, Op.64, TH.29
Jules Massenet
La traviata / Act 1
Henryk Wieniawski
Etudes-Caprices For 2 Violins, Op.18
Franz Liszt
12 Etudes d'exécution transcendante, S.139
Claudio Monteverdi
Madrigals, Book 7
Piotr Ilyitch Tchaïkovski
Swan Lake, Op.20, TH.12 / Act 2
Domenico Scarlatti
Sonata In E Major, Kk.135

Disque 5

Gaetano Donizetti
L'elisir d'amore / Act 2
Frédéric Chopin

W.a. Mozart
Sonata For Piano And Violin In E Minor, K.304
W.a. Mozart
Le nozze di Figaro, K.492 / Act 4
Franz Liszt
2 Etudes de Concert, S.145
Antonio Vivaldi
Concerto For Violin And Strings In E Major, Op.8, No.1, RV 269 "La Primavera"
Frédéric Chopin

Richard Strauss
Capriccio, Op.85, TrV 279
Gioacchino Rossini
Il barbiere di Siviglia / Act 1
Charles-marie Widor
Symphony No.5 In F Minor, Op.42 No.1 For Organ
Richard Wagner
Tannhäuser / Act 3
Jean-sébastien Bach
Mass In B Minor, BWV 232 / Agnus Dei
Serge Rachmaninov

Jean Sibelius
Karelia Suite, Op.11
Alexander Glazunov

Robert Schumann

Ludwig Van Beethoven
Sonata for Violin and Piano No.5 in F, Op.24 - "Spring"
Franz Schubert


Disque 6

Francisco Tárrega

W.a. Mozart
Exsultate, jubilate, K.165
Giuseppe Verdi
Nabucco / Act 3
Charles Gounod, Jean-sébastien Bach

Stanley Myers

W.a. Mozart
Symphony No.40 In G Minor, K.550
Giuseppe Verdi

Ralph Vaughan Williams
Songs Of Travel
Richard Wagner
Lohengrin / Act 3, WWV 75
Osvaldo Golijov
Ayre
Giuseppe Verdi
Rigoletto / Act 1
Jean-sébastien Bach
Suite For Cello Solo No.5 In C Minor, BWV 1011
György Ligeti

George Frideric Handel
Organ Concerto No.4 in F, Op.4 No.4
Ludwig Van Beethoven

Jean-sébastien Bach

Heitor Villa-lobos
5 Preludes, W419
Carlos Salzedo

Johannes Brahms
Sonatensatz "FAE sonate" Op.5
Franz Schubert
4 Impromptus, Op.90, D.899

Ceux qui ont aimé cet album ont aussi aimé...
page

Albums de Luciano Pavarotti



Luciano Pavarotti
- Apr 2017
34 titres -
Classique


Luciano Pavarotti / Dame Joan Sutherland / London Opera Chorus / Matteo Manuguerra / Richard Bonynge / The National Philharmonic Orchestra
- Mar 2017
24 titres -
Classique


Luciano Pavarotti / Joan Sutherland / Marilyn Horne / Martti Talvela / Sir Georg Solti / Wiener Philharmoniker / Wiener Staatsopernchor
- Jun 2016
19 titres -
Classique


Luciano Pavarotti
- Oct 2014
18 titres -
Classique


Luciano Pavarotti
- Jun 2013
8 titres -
Classique


Luciano Pavarotti
- May 2013
55 titres -
Classique



Luciano Pavarotti
- Mar 2013
53 titres -
Classique


Luciano Pavarotti / Antonella Banaudi / Coro E Orchestra del Maggio Musicale Fiorentino / Leo Nucci / Shirley Verrett / Zubin Mehta
- Dec 2012
40 titres -
Classique



Luciano Pavarotti / Mirella Freni / Nicola Rescigno / Sherill Milnes / The National Philharmonic Orchestra
- Oct 2011
29 titres -
Classique


Luciano Pavarotti
- Sep 2011
101 titres -
Classique


Luciano Pavarotti / Agustín Lara / Andrew Lloyd Webber / Coro E Orchestra del Maggio Musicale Fiorentino / Eduardo Di Capua / Ernesto de Curtis / Franz Lehár / Giacomo Meyerbeer / Giacomo Puccini / José Carreras / Juan de Dios Filiberto / Léonard Bernstein / Orchestre de l'Opéra de Rome / Plácido Domingo / Rudolf Sieczynski / Ruggero Leoncavallo / Umberto Giordano / Zubin Mehta
- Aug 2011
17 titres -
Classique


Luciano Pavarotti / Dame Joan Sutherland / Giacomo Puccini / Montserrat Caballé / Nicolaï Ghiaurov / The London Symphony Orchestra / Zubin Mehta
- Aug 2011
19 titres -
Classique

Luciano Pavarotti / Dame Joan Sutherland / Marilyn Horne / New York City Opera Orchestra / Richard Bonynge
- Aug 2011
8 titres -
Classique



Luciano Pavarotti / Eduardo Di Capua / Ernesto de Curtis / Gioacchino Rossini / Giuseppe Di Stefano / José Carreras / Luigi Denza / Ruggero Leoncavallo
- Apr 2010
22 titres -
Classique