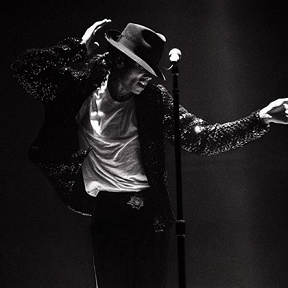 Michael Jackson
Il semble difficile de résumer la carrière de Michael Jackson tant elle fût dense, d'autant qu'il a commencé très jeune, en 1965, quand il forma le groupe Jackson Five avec ses frères. La reconnaissance professionnelle viendra pour lui à l'âge de 11 ans, au sein de cette formation familiale. Après 5 ans de succès, il décide de se lancer en solo en 1971. Son premier disque «
Got To Be There
» sort en 1972. D'autres ont suivi, d'abord sous le label Motown puis chez Epic Records et Sony. Le dernier date de 2001 et s'intitule «
Invincible
». Depuis son décès le 25 juin 2009 des suites d'un arrêt cardiaque, des disques posthumes, des compilations et coffrets ont été commercialisés. Autant de chansons que vous pouvez écouter sur notre site gratuitement. Et avec nos formules, vous avez la possibilité de les télécharger en toute légalité en mp3. Et avec nos packs à partir de 3,90€ par mois, vous avez la possibilité de les télécharger en toute légalité en mp3.
lire la suite
Une légende de la musique pop et un véritable phénomène
Le moins que l'on puisse dire est que Michael Jackson a marqué son époque par son style musical, ses clips qui ressemblent à des courts-métrages («
Thriller
», «
Smooth Criminal
» et «
Billie Jean
» par exemple), ses apparitions sur scène et par ses célèbres pas de danse dont sa signature, le Moonwalk. Tout au long de sa carrière, il a battu de nombreux records. Il figure parmi les trois plus gros vendeurs de disques de tous les temps. Son album «
Thriller
» a été vendu à 66 millions d'exemplaires et il a été certifié plus de 30 fois disque de platine aux Etats-Unis ! Il a également remporté de nombreux prix et récompenses. Il était aussi connu pour son engagement en faveur d'œuvres et associations caritatives (ses dons dépassent les 400 millions de dollars). Durant sa carrière, son image publique a été plusieurs fois ternie à cause de son mode de vie notamment et son personnage fût assez controversé. En janvier 2009, il fait son retour après plusieurs années d'absence et annonce des concerts avant son retrait artistique. Malheureusement, cette tournée tourne court lorsque Michael Jackson décède en juin 2009.
Tous les titres du roi de la pop à écouter sur musicMe !
Baptisé « The King of the pop », le chanteur reste, malgré les polémiques, une figure emblématique de la musique. Ses morceaux et albums continuent de se vendre et d'être écoutés par de nombreux fans, aux quatre coins du monde. Sur notre site, vous retrouvez toutes les chansons de Michael Jackson en écoute gratuite comme «
This is It
», «
Billie Jean
», «
Black or White
», «
Bad
», «
Rock with you
», «
Beat it
» et «
Pretty Young Thing
». En souscrivant l'une de nos formules, vous pouvez les télécharger légalement en mp3. Sachez aussi qu'en achetant des crédits, vous pouvez les télécharger légalement en mp3. Alors si vous êtes intéressé, découvrez vite notre catalogue et nos offres en ligne !