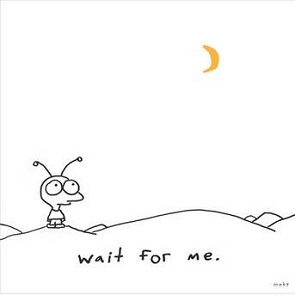 Dans un souci de "do it yourself", Moby a enregistré ce nouvel album dans son petit studio, chez lui, a lui-même dessiné avec un feutre noir la pochette de l'album et a fait appel à des amis pour les voix, les photos, le mixage (par KenThomas, qui a travaillé sur Sigur Ros,M83,Throbbing Gristle...) et les vidéos (David Lynch pour "Shot in the back of the head").

Les chansons prennent aussi toute leur dimension lorsqu'elles sont écoutées dans leur ensemble. Bien que chaque titre fonctionne seul, « Wait for me » est un album conçu pour être écouté du début à la fin. Moby propose donc un album dont le but est avant tout d'essayer d'élever le niveau plutôt que d'atteindre le succès commercial à tout prix.
Ceux qui ont aimé cet album ont aussi aimé...