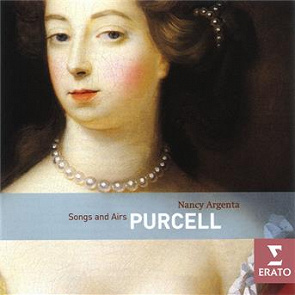 Disque 1

O solitude! Z.406a

Tyrannic love, Z.613: ah! how sweet it is ...

Not all my torments can your pity move, Z....

Stripp'D of their green, Z.444

Tell me, some pitying angel, Z.196

If music be the food of love, Z.379

The fairy queen, Z.629: hark! the echoing ...

The fatal hour comes on apace, Z.421

In cassum, lesbia, Z.383

Pausanias, Z.585: sweeter than roses

Cupid, the slyest rogue alive, Z.367

From silent shades, Z.370

The tempest, Z.631: dear pretty youth

From rosy bow'RS, Z.578

Now that the sun hath veiled his light, Z....

Sophonisba, Z.590: beneath a poplar's shadow

I attempt from love's sickness to fly, Z. ...

Let us dance, Z.627

King arthur, Z. 628: fairest isle

O solitude! z406

Disque 2

Nymphs and shepherds, Z.600

Amidst the shades and cool refreshing stre...

Love in their little veins inspires, Z.632

Fly swift, ye hours, Z.369

The indian queen, Z.629: they tell us that...

The plaint: o let me weep, Z.629

In the black, dismal dungeon of despair, Z...

See, even night herself is here, Z.629

The indian queen, Z.630: why should men qu...

The indian queen, Z.630: seek not to know

King richard the second, Z.581: retir'D fr...

To arms, heroic prince, Z.600

Bonduca, Z.574: o lead me to some peaceful...

The tempest, Z.631: halcyon days

Bid the virtues

A divine hymn, Z.192: lord, what is man?

Oedipus, Z. 583: music for a while

If music be the food of love, Z. 379 (1st ...

A scotch song, Z.412: sawney is a bonny lad

When I have often heard young maids compla...

Theodosius, Z.606: ah! cruel, bloody fate

Dido and aeneas, Z.626: thy hand, belinda ...
Ceux qui ont aimé cet album ont aussi aimé...
Tous les albums de Nancy Argenta











Nouveautés relatives à Nancy Argenta