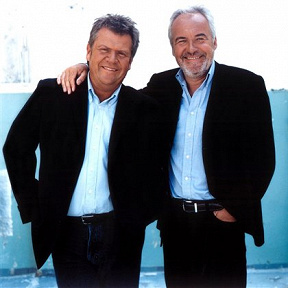 Olsen Brothers
Les
Olsen Brothers
sont un duo danois pop rock, composés de deux frères
Jørgen
(né le 15 mars, 1950) et
"Noller"
(
Niels
, né le 13 avril, 1954)
Olsen
. Ils fondent leur premier groupe, The Kids, en 1965. Ils font la première partie de
The Kinks
au K.B. Hallen en 1965 et sortent leur premier 45 tours en 1967.
Jørgen et Niels Olsen participent à la comédie musicale
Hair
au Cirkusbygningen à
Copenha
......
lire la bio


Olsen Brothers / Tommy Seebach / Annette Heick / Kirsten Og Soren / Snapshot / Lise Haavik / Kirsten Og Søren, Snapshot, Lise Haavik, Brødrene Olsen, Ole Bredahl, Keld Og Hilda, Jørgen de Mylius, Birthe Kjær, Lucienne / Soeren Bundgaard / Kirsten Siggaard / Brødrene Olsen / Hilda / Birthe Kjær / Lucienne / Keld / Kirsten / Sören / Joergen de Mylius / Ole Bredahl / Kirsten Og Søren, Snapshot, Lise Haavik,brødrene Olsen, Ole Bredahl, Keld Og Hilda, Jørgen de Mylius, Birthe Kjær, Lucienne / Keld Heick / Hilda Heick / Jørgen de Mylius / Sin Julegrød
- nov. 1996
32 titres -
Pop, Rock