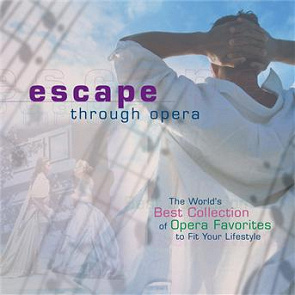 Disque 1

La traviata, act i: prelude

Gianni schicchi: o mio babbino caro

Tosca: e lucevan le stelle

Signore, ascolta from turandot (voice)

Habanera from carmen (voice)

Sull aria... che soave zeffiretto from the...

"chi il bel sogno di doretta" from la rond...

Intermezzo from cavalleria rusticana (inst...

Tosca: vissi d'arte

Aida: se quel guerrier io fossi! - celeste...

M'appari tutt'amor from martha (voice)

Polovtsian dances from prince igor (excerpt)

Children's prayer from hansel and gretel (...

Humming chorus from madama butterfly (voice)

L'elisir d'amore: una furtiva lagrima (voi...

Meditation from thaïs

Air de fleur (flower song) from carmen (vo...

Les contes d'hoffmann: barcarolle

Si, mi chiamano mimi from la bohème

Avant de quitter ces lieux from faust (voi...

Fedora: amor ti vieta

Prendi, per me sei libero from l'elisir d'...

Disque 2

Ombra mai fù from xerxes (voice)

Là ci darem la mano from don giovanni (voi...

Lascia ch'io pianga from rinaldo (voice)

Orpheo ed euridice, wq. 30, act ii: dance ...

Porgi, amor from the marriage of figaro (v...

Je crois entendre encore (i hear as in a d...

Carmen: intermezzo act ii - act iii (andan...

"ebben? ne andrò lontana" from la wally, a...

Adieu, notre petite table from manon (act ...

"addio, mio dolce amor!" from edgar (act i...

Mignon, act i: connais-tu le pays?

Mon coeur s'ouvre à ta voix from samson et...

Madama butterfly: un bel dì

Bianca e fernando: sorgi, o padre, e la fi...

Depuis le jour from louise (voice)

Wie todesahnung dämmrung deckt die lande.....

Turandot: nessun dorma
Ceux qui ont aimé cet album ont aussi aimé...
Tous les albums de Plácido Domingo, Renata Scotto, Richard Tucker, Frederica von Stade

Nouveautés relatives à Plácido Domingo, Renata Scotto, Richard Tucker, Frederica von Stade