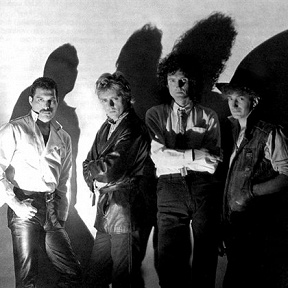 Réputé pour ses shows spectaculaires, la personnalité de son chanteur et ses chansons originales, Queen a contribué à révolutionner la scène musicale et s'est imposé comme une légende du rock britannique. Aujourd'hui encore, le groupe compte de très nombreux fans dans le monde entier. Composé de 4 membres, Brian May, Roger Taylor, John Deacon et l'inoubliable Freddie Mercury, il a sorti 15 albums studio, dont un après le décès du chanteur, et obtenu de nombreuses récompenses. Figurant parmi l'un des pionniers du clip vidéo, il se caractérise aussi par son catalogue très varié de chansons. De même, ses performances scéniques faisaient de ses concerts de véritables événements. Et si vous aimez ses titres et son style inimitable, vous pouvez les écouter en ligne sur notre site et les télécharger. Des vidéos de Queen sont également disponibles pour que vous puissiez vous replonger dans son univers.
lire la suite
L'un des plus grands groupes de rock britannique
L'histoire de Queen commence en 1968 lorsque Brian May et Tim Staffell créent le groupe Smile. Rejoint par Roger Taylor, ils se produisent sur scène tout en continuant leurs études. Début 1970, Tim Staffell quitte Smile et est remplacé par Freddie Mercury. Le groupe est renommé et en 1971, John Deacon est recruté. L'aventure démarre enfin et en 1973 sort le premier album du quatuor … qui passe plutôt inaperçu. Il faut attendre 1974 et le deuxième disque pour que le succès auprès du public soit au rendez-vous. Un troisième – «
Sheer Heart Attack
» - est enregistré la même année et constitue un réel tournant dans la carrière du groupe. C'est également en 1974 qu'il commence à se faire remarquer par ses prestations scéniques. Un plus tard, Queen revient avec « A Night a the Opera » qui continent l'incontournable «
Bohemian Rhapsody
». Cet album va à contre-courant de la mode de l'époque et lui permet de séduire le public américain. Les années suivantes, d'autres opus sont enregistrés. Dans les 80's, il prend un nouveau virage en intégrant à sa musique les synthétiseurs. Malheureusement, le 24 novembre 1991, une page de l'histoire du groupe se ferme avec le décès de Freddie Mercury.
Toute sa discographie à écouter sur musicMe !
Sur notre site, vous retrouvez les plus célèbres chansons de Queen comme «
Bohemian Rhapsody
», « Don't stop me know », «
I want to break free
», «
Under pressure
», « A king of magic », «
Radio ga ga
», «
Somebody to love
», «
Made in heaven
», «
The miracle
», «
Mother Love
» mais aussi, «
I want it all
» et «
It's a beautiful day
». Nous vous proposons de les écouter en ligne, sur notre site ou notre application. Vous pouvez le faire gratuitement ou bien en souscrivant à l'une de nos formules qui vous libèrent de la publicité. De même, en achetant des crédits de téléchargement, vous les téléchargez légalement. Vous êtes intéressé ? Découvrez nos offres et tous les albums du groupe disponibles sur notre site !