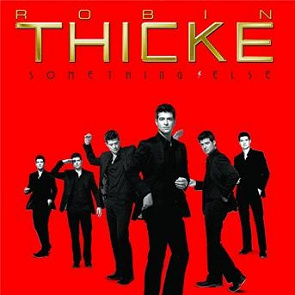 A tout juste 30 ans, Robin Thicke a déjà à son actif une carrière chargée. Producteur pour Michael Jackson, Christina Aguilera, Usher et beaucoup d'autres, il décide en 2002 de se lancer en solo.
Après cette première sortie remarquée, il récidive en 2005 avec The Evolution Of Robin Thicke, cette fois sur le label Star Trak de Pharrell Williams. Le disque est un carton vendu à plus de 1.5 millions d'exemplaires, porté par le single " Lost Without You ", 1er des classements urbains et top 15 du Hot 100.
2008 marque le grand retour de Robin Thicke avec son nouvel album Something Else. le nouveau single " Magic " est entré directement sur plusieurs playlists dont celle d'NRJ. Véritable bombe soul, le titre s'inspire d'un Curtis Mayfield en partant d'une vraie base pop.
Sans aucun doute l'un des prochains cartons d'airplay et un grand moment à voir en live sur scène, notamment lors d'un passage à Paris d'ici la fin de l'année. Le reste de l'album Something Else oscille entre R&B classieux et élegance soul avec quelques montées de rythmes qui évoquent parfois Lenny Kravitz, le tout avec au moins trois autres singles en réserve.
Ceux qui ont aimé cet album ont aussi aimé...