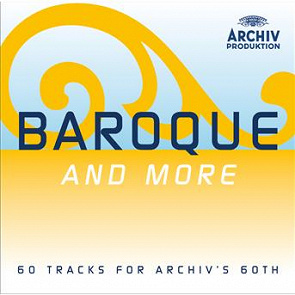 Disque 1

Jean-sébastien Bach


Toccata and fugue in D minor, BWV 565

Georg Friedrich Haendel
Solomon, HWV 67

Arrival of the queen of sheba

Jean-sébastien Bach
Aria mit 30 Veränderungen, BWV 988 "Goldberg Variations"

Aria

Antonio Vivaldi
Concerto For Violin And Strings In F Minor, Op.8, No.4, RV 297 "L'inverno"

1. allegro non molto

Georg Friedrich Haendel


Zadok the priest, HWV 258

Jean-sébastien Bach
Cantata "Ich habe genug" BWV 82

1. aria: ich habe genug, ich habe den heiland

Jean-sébastien Bach
Brandenburg Concerto No.3 In G Major, BWV 1048

1. (allegro)

Jean-sébastien Bach
Suite No.3 in D, BWV 1068

Air on the G string

Georg Friedrich Haendel
Messiah, HWV 56 / Pt. 2

"Hallelujah"

Jean-philippe Rameau
Premier Livre de pieces de clavecin / Suite in D Minor-major 1724

9. tambourin

Jean-ferry Rebel
Les Élémens, Simphonie Nouvelle

1. le cahos

Georges Philipp Telemann
Concerto In B Flat Major For 3 Oboes, 3 Violins And Basso Continuo, TWV 44:43

3. allegro

Jean-sébastien Bach
St. Matthew Passion, BWV 244 / Part Two

No.39 aria (alto): "erbarme dich"

Jean-sébastien Bach
Suite No.2 In B Minor, BWV 1067

7. badinerie

Arcangelo Corelli
Concerto grosso In G Minor, Op.6, No.8 "fatto per la notte di Natale"

4. allegro - pastorale (largo)

Jean-sébastien Bach
Violin Concerto No.1 In A Minor, BWV 1041

1. (allegro moderato)

Georg Friedrich Haendel
Water Music Suite No.1 in F, HWV 348

11. hornpipe

Jean-sébastien Bach
Magnificat In D Major, BWV 243

1. chorus: "magnificat"

Antonio Vivaldi
Concerto for Strings and Continuo in G minor, R. 156

1. allegro

Antonio Vivaldi
Gloria In D Major, RV 589

1. gloria in excelsis deo

Disque 2

Claudio Monteverdi
L'Orfeo, SV 318 / Prologo

Toccata

Johann Pachelbel


Canon and gigue in D major, P 37

Claudio Monteverdi
L'Orfeo / Prologo

Ritornello

Marc-antoine Charpentier
Te Deum For Soloists, Chorus And Orchestra, H. 146

1. prélude. rondeau

Allegri


Miserere

Francis Cutting
Lute music - England

Greensleeves

Giovanni Gabrieli


Sonata con tre violini (XXI from canzoni et sonate, 1615)

Léonin, Pérotin
Léonin / Pérotin: Magnus Liber / Feast Of St. Stephen

Etenim sederunt principes (à 1) (introit)

Anonymous


Trotto

Anonymous
Music Of The Gothic Era - Ars nova

Zelus familie

Guillaume De Machaut
Dreams In The Pleasure Garden - Chansons

De toutes flours

Anonymous


Bransles de village - arr. piffaro

Johannes Ockeghem
Missa "De plus en plus"

Agnus dei

Giovanni-pierluigi Da Palestrina
Missa "Hodie Christus natus est"

2. gloria

Orlando Gibbons


Fantasia I A 3

Michael Praetorius


Recessional: "in dulci jubilo" - polyhymnia caduceatrix (1619) -

Claudio Monteverdi
L'incoronazione di Poppea / Act 3

"Scendiam, scendiam" / "pur ti miro"

Heinrich Ignaz Franz Von Biber
Missa Salisburgensis

Kyrie

Henry Purcell
Dido and Aeneas

Overture

Claudio Monteverdi
Vespro della Beata Vergine, SV 206

1. domine ad adiuvandum a 6

Disque 3

Johann Adolf Hasse
Sinfonia op.3, No.3

1. allegro assai

Jean-philippe Rameau
6 Concerts transcrits en sextuor / 6e concert

1. la poule

C.w. Gluck
Orfeo ed Euridice (Orphée et Eurydice) / Acte 3

Air: j'ai perdu mon euridice

Domenico Scarlatti
Sonatas For Harpsichord (Miscellaneous)

Sonata in G, K.348: prestissimo

Pietro Locatelli
Concerto in F major, op.4, No.12 (1735)

2. largo

Carl Philipp Emanuel Bach
Sinfonia In D, Wq. 183 No.1

1. allegro DI molto

Léopold Mozart
Musikalische Schlittenfahrt

10. schlittenfahrt

W.a. Mozart
Exsultate, jubilate, K.165

4. alleluia

Joseph Haydn
Symphony In C, Hob. I No.48 -"Maria Theresia"

1. allegro

W.a. Mozart
Piano Concerto No.21 In C, K.467

2. andante

Joseph Martin Kraus
Soliman den andra

Marcia degli giannizari

W.a. Mozart
Le nozze di Figaro, K.492 / Act 1

"Non più andrai"

W.a. Mozart
Serenade in G, K.525 "Eine kleine Nachtmusik"

4. rondo (allegro)

W.a. Mozart
Requiem In D Minor, K.626

3. sequentia: lacrimosa

W.a. Mozart
Symphony No.40 In G Minor, K.550 - (2nd Version)

1. molto allegro

W.a. Mozart
Die Zauberflöte, K.620 / Act 1

Der vogelfänger bin ich ja (papageno)

Joseph Haydn
Trumpet Concerto In E Flat, Hob. VIIe No.1

3. allegro

Joseph Haydn
Die Schöpfung Hob. XXI:2 / Erster Teil

14. chor und terzett: "die himmel erzählen die ehre gottes" / "dem kommenden tage sagt es der tag"

Franz Schubert
3 Marches Militaires, D.733 (Op.51)

Marche militaire in D, op. 51 no. 1

Ludwig Van Beethoven
Symphony No.5 In C Minor, Op.67

1. allegro con brio
Ceux qui ont aimé cet album ont aussi aimé...