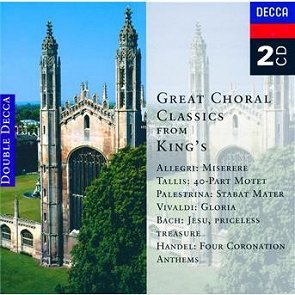 Disque 1

Allegri


Miserere

Giovanni-pierluigi Da Palestrina


Stabat mater (8vv)

Thomas Tallis


Spem in alium

Sancte deus

William Byrd


Ave verum corpus

Antonio Vivaldi
Gloria in D, R.589

Gloria in excelsis

Et in terra pax

Laudamus te

Gratias agimus tibi

Propter magnam gloriam

Domine deus

Domine fili unigenite

Domine deus, agnus dei

Qui tollis

Qui sedes ad dexteram

Quoniam tu solus sanctus

Cum sancto spiritu

Disque 2

Orlando Gibbons


Verse anthem: this is the record of john

Jean-sébastien Bach
Jesu meine Freude Motet, BWV 227

Jesu, priceless treasure

Chorus: so there is now no condemnation

Jean-sébastien Bach
Jesu meine Freude Motet, BWV 227 - Sung in English. Translation adapted from N. Bartholomew

Chorale: in thine arm i rest me

Trio: thus then, the law of the spirit of ...

Chorus: death, i do not fear thee

Chorus: ye are not of the flesh, but of th...

Chorale: hence with earthly treasure

If therefore christ abide in you

Chorale: fare thee well that errest

Chorus: if by his spirit god

Chorale: hence all fears and sadness

Georg Friedrich Haendel
Coronation Anthem No. 1, HWV 258

Zadok the priest

Georg Friedrich Haendel
My Heart is Inditing (Coronation Anthem No.4, HWV 261)

My heart is inditing

King's daughters were among thy honorable ...

Upon thy right hand

Kings shall be thy nursing fathers

Georg Friedrich Haendel
Let Thy Hand be Strengthened (Coronation Anthem No.2, HWV 259)

Let thy hand be strengthened

Let justice and judgement

Alleluja!

Georg Friedrich Haendel
The King shall rejoice (Coronation Anthem No.3, HWV 260)

1. introduction - the king shall rejoice

2. exceeding glad shall he be

3. glory and worship hast thou laid

4. alleluja
Ceux qui ont aimé cet album ont aussi aimé...