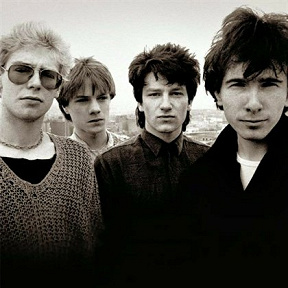 Une lettre, un chiffre qui sont devenus mythiques au fil des décennies. Fondé en 1976, U2 est un groupe connu dans le monde entier, tant pour ses chansons et ses mélodies que pour ses engagements humanitaires. Actuellement composé de Bono, The Edge, Adam Clayton et Larry Mullen Jr, il fait l'unanimité auprès du public depuis plus de 40 ans. Multi-récompensé, U2 figure à la 22ème place du classement des 100 plus grands artistes de tous les temps réalisé par le magazine Rolling Stones il y a quelques années. Le premier album du groupe « Boy » est sorti en 1980. Le dernier en date, le 14ème, est dans les bacs depuis le 1er décembre 2017 et s'intitule «
Songs of Experience
». Ils font tous les deux partie des disques que vous pouvez écouter en ligne sur notre site et télécharger légalement.
lire la suite
Un groupe de rock légendaire au succès planétaire
L'histoire de cette formation musicale commence en 1976 lorsque Larry Mullen, alors âgé de 14 ans, passe une annonce pour créer un groupe de rock. Cette dernière n'obtenant guère de réponse, il aborde Adam Clayton qui accepte de le rejoindre. Puis Dave Evans (dit « The Edge ») et Paul Hewson (qui se fera appeler Bono) se lancent dans l'aventure. A cette période, ils prennent le nom de Feedback, puis le changent par The Hype avant d'adopter définitivement U2 en 1978. Les compères enregistrent leurs premiers morceaux à la fin de l'année 1978 et leur premier disque en 1980. Une année décisive pour eux puisqu'elle est marquée par le début de leur succès. Depuis, ils sont devenus des légendes du rock et leurs chansons sont diffusées aux quatre coins du monde. De même, cela fait plus de 40 ans que le groupe défend la cause des droits de l'homme, tant dans ses paroles que dans ses actes. Il n'hésite pas par exemple à promouvoir Amnesty International durant des concerts. D'ailleurs, Bono figurait sur la liste des potentiels prix Nobel de la paix en 2003 et 2005. Et plus les années passent et plus ses albums témoignent de ses engagements.
Tous les titres et albums disponibles sur notre site
Les chansons et disques du groupe U2 ont traversé les années et les frontières sans prendre de rides. Les plus anciens morceaux sont encore diffusés sur les ondes. Sur notre site, nous vous proposons d'écouter ses albums en ligne gratuitement. Si vous souhaitez les télécharger légalement ou les écouter sans publicité et en illimité, vous pouvez souscrire à l'une de nos formules ou acheter des packs de téléchargement (à partir de 3,90€). Parmi les nombreux titres répertoriés au sein de notre catalogue, vous retrouvez notamment «
Sunday Bloody Sunday
», «
One
», «
Magnificent
», «
With or without you
», «
Beautiful day
», «
California
», «
Ordinary Love
», «
All I want is you
», «
Mysterious Ways
», «
Desire
» ou encore, «
The miracle
» et «
Pride
». Pour les découvrir tous, il ne vous reste plus qu'à consulter notre site !