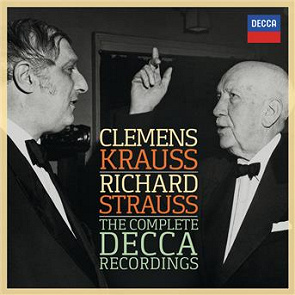 Disque 1

Richard Strauss


Don juan, op.20

Richard Strauss
Ein Heldenleben, Op.40

Der held

Des helden widersacher

Des helden gefährtin

Des helden walstatt

Des helden friedenswerke

Des helden weltflucht und vollendung

Disque 2

Richard Strauss
Also sprach Zarathustra, Op.30

Prelude (sonnenaufgang)

Von den hinterweltlern

Von der großen sehnsucht

Von den freuden und leidenschaften

Das grablied

Von der wissenschaft

Der genesende

Das tanzlied - das nachtlied

Das nachtwandlerlied

Richard Strauss
Don Quixote, Op.35

Introduktion & theme (mäßiches zeitmaß)

Variation 1 (gemächlich)

Variation 2 (kriegerisch)

Variation 3 (mäßiges zeitmaß)

Variation 4 (etwas breiter)

Variation 5 (sehr langsam)

Variation 6 (schnell)

Variation 7 (ein wenig ruhiger als vorher)

Variation 8

Variation 9 (schnell und stürmisch)

Variation 10 (viel breiter)

Finale (sehr ruhig)

Disque 3

Richard Strauss
Sinfonia Domestica, Op.53

Thema 1 - bewegt

Thema 2

Thema 3

Scherzo - munter

Wiegenlied - mässig langsam und sehr ruhig

Adagio - langsam

Finale. sehr lebhaft

Richard Strauss
Ariadne auf Naxos, Op.60 - Le bourgeois gentilhomme - Orchestral Suite

1. overture to act i

2. minuet

3. the fencing master

4. entry and dance of the tailors

5. lully's minuet

6. courante

7. entry of cléonte

8. intermezzo - prelude to act ii

9. le diner

Disque 4

Richard Strauss
Aus Italien, Op.16

1. auf der campagna

2. in rom's ruinen

3. am strande von sorrent

4. neapolitanisches volksleben

Richard Strauss


Till eulenspiegel's merry pranks (till eul...

Richard Strauss
Salome, Op.54 / Scene 1

"wie schön ist die prinzessin salome heute...

"nach mir wird einer kommen"

Richard Strauss
Salome, Op.54 / Scene 2

"ich will nicht bleiben"

"siehe, der herr ist gekommen"

"jauchze nicht, du land palästina"

"du wirst das für mich tun"

Richard Strauss
Salome, Op.54 / Scene 3

Wo ist er...er ist schrecklich...wer ist d...

"jochanaan! ich bin verliebt in deinen leib"

Disque 5

Richard Strauss
Salome, Op.54 / Scene 3

Dein leib ist grauenvoll

Wird dir nicht bange...laß mich deinen mun...

Richard Strauss
Salome, Op.54 / Scene 4

"wo ist salome?"

Es ist kalt hier

"salome, komm, trink wein mit mir"

"siehe, die zeit ist gekommen"

"wahrhaftig, herr, es wäre besser, ihn in ...

"siehe, der tah ist nahe"

"eine menge menschen wird sich gegen sie s...

"tanz für mich, salome"

Salome's dance of the seven veils

Ah, herrlich!...salome, ich beschwöre dich

Still, sprich nicht zu mir!

"salome, bedenk, was du tun willst"

"man soll ihr geben, was sie verlangt!"

"es ist kein laut zu vernehmen"

"ah! du wolltest mich nicht deinen mund"

"sie ist ein ungeheuer, deine tochter"

"ah! ich habe deinen mund geküsst, jochana...
Ceux qui ont aimé cet album ont aussi aimé...